5-time Open Winner Watson gets exemption for 2010 in St. Andrews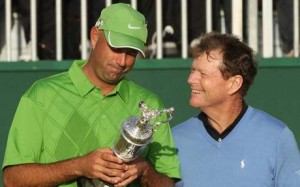 Tom Watson's dream of a sixth Claret Jug is still alive, thanks to a rule change by the R&A, the governing body for golf outside the US and Mexico. Despite finishing 2nd in this year's Open, which for any other previous champion in the field would have meant an exemption for 2010, Watson would have lost out to the R&A's age rules.
[subscribelocker]
Turning 60 this year, Watson has become the very age that would eliminate him from automatic qualification for the tournament. But due to Watson's incredible performance at Turnberry and Greg Norman's at Birkdale the previous year, the golfing world has been shown that players in their 50s can still compete at the highest level, or at least at The Open Championship.
The R&A announced yesterday that all past champions will be given a 5 year exemption for a top ten finish with no age limit.
A 1500-1 shot at the beginning of the 2009 Open Championship, Watson needed an up and down from the back of the 18th green to win. In what would have been perhaps the most popular victory of a major of all time, it was not mean to be. Watson demonstrated that in a game that  requires at least as much mental skill as physical, there is no reason why we can't see players compete in majors well into their 50s.
[/subscribelocker]