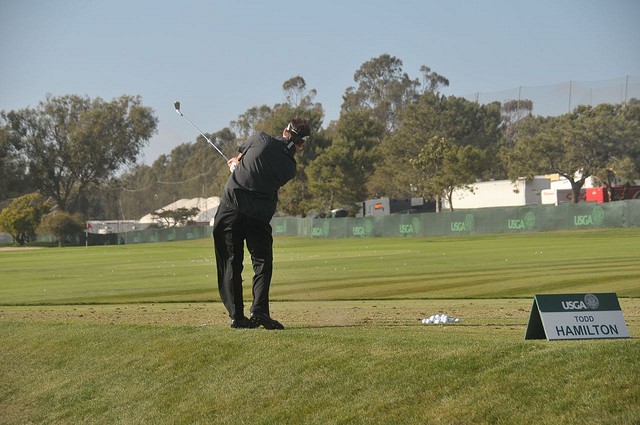 Are You READY for Good Golf or Distracted?
I had an amazing experience at the 2014 PGA Show in Orlando last month. I met some great people and was very impressed with the entire event. Interestingly enough, one of the biggest takeaways from the show occurred on the golf course.
I have had a friendship with PGA Professional Preston Combs for about 18 months. We finally had a chance to meet at the show and I was fortunate to take a lesson with him as well. What he taught me in 30 minutes was game-changing, so of course I wanted to go and apply what I learned immediately.
The next day I arrived at the range, purchased my bucket and the associate there told me to start at the putting area due to the range being full. He gave me the impression that I was only going to have a limited amount of time to hit. As a result, I spent time putting and waited for a spot to open. Once it did, I headed over and started hitting.
[subscribelocker]
Two hours later, as I was getting ready to hit my next shot, I saw the ranger heading towards me and immediately thought I had overstayed my welcome. As he drove past and made a friendly comment, I mishit my shot. I mishit it not because of him, but because I allowed myself to get distracted. After he drove past, I laughed to myself and quickly realized three very important things:
1 – I had A.N.T.s. A.N.T.s are Automatic Negative Thoughts. My negative fortune telling, that I was being booted, had me consumed with A.N.T.s. As a result, I mishit the shot.
2 – I was distracted. It became immediately obvious that there are two ways to feel over the ball. Focused or Distracted. You can be distracted by a myriad of stupid or negative thoughts, but you should only be focused on one thing, YOUR TARGET. I was totally distracted by my own stupid thoughts.
3 – I did not eat my own dog food. The process I teach my students to be in the zone on every shot is called 100% READY. Step 1 of being 100% READY is to Create Emotional Balance. If I practiced what I preach on this particular shot (aka Eat My Own Dog Food), I would have stopped, walked behind the ball and started my pre-shot routine all over again. Yes, sometimes even the teacher makes mistakes 🙂
[/subscribelocker] Photo by SD Dirk