Hilton Head: "The Golfer's Island"

Golf has been played in the Lowcountry of South Carolina since Scottish merchants introduced the game in the late 1700s. Today, with its fantastic climate and outstanding natural beauty, this area has evolved into a golfing mecca and attracts golf tourists from all over the world.
The island of Hilton Head captures the very best attributes of both oceanfront and inland golf. These links meander through forests, marshes, lakes and sand dunes providing excellent shot making options and a great test of golf. With over 20 world class courses on the island itself, Hilton Head is without a doubt a golfer's paradise.
[subscribelocker]
Harbor Town Golf Links is the most famous of all the Hilton Head Golf Courses. The signature red and white light house which backdrops the 18th green is what most golfers think of when they visualize Hilton Head Island. Home of the Heritage Classic (now the Verizon Heritage) on the PGA Tour since 1969, Harbor Town gives the public the opportunity to walk in the footsteps on legends. Won this year by Jim Furyk, the tournament attracts the biggest names in golf and it is without a doubt testament to the superb quality of the golf course.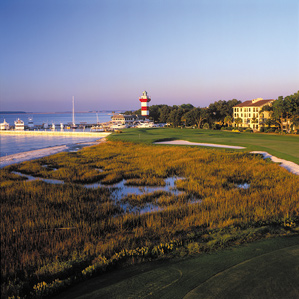 Designed by a joint collaboration of Jack Nicklaus and Pete Dye in 1968, the course stretches a total of 6973 yards (par 71), taking you through countless foliage and forests, lagoons and sand dunes. All the while maintaining a Scottish aire in homage to the game's forefathers. Narrow tree-lined fairways and small greens make accuracy the primary focus. The match deciding 18th hole along Calibogue Sound is one of golf's most spectacular finishing holes. With the famous lighthouse and Marina in the background, the goal is to stick to the challenge of making par and not get caught up in the awe-inspiring beauty of your surroundings.
The springtime is the perfect time to visit Hilton Head, before the inevitable summer heat and humidity arrives. This is also the best time to enjoy the local seafood with freshly caught fish, shrimp, scallops, oysters, scampi and calamari available aplenty.
Harbor Town is truly one of America's greatest courses. Greens fees run from $125-$255, and although this may seem steep, it's one of those courses you "must play" at least once throughout your lifetime. With so many other great courses on offer, there are a number of options for arranging your Hilton Head tee times and a wonderful golf vacation on this (should be re-named) "Golf Island".
[/subscribelocker]