John Daly reacts to the Tiger Woods Statement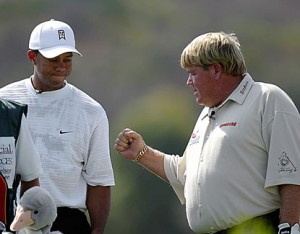 If anyone knows what it's like to face intense media scrutiny, it's John Daly. The Memphis based golfer recently made his reaction to the Tiger WoodsMedia Statement public, saying that Tiger handled it poorly and shouldn't have waited the three months it took for him to face the public. He believes it gave the media and speculators too much time to write "bad things" and spread rumors.
Daly, whose antics over the years have given the press plenty of fodder for jaw-dropping stories, knows very well how punishing they can be. He certainly has more experience than Tiger in dealing with the negative attention drawn from of his bad behavior, and says that if he makes a mistake he'll admit it right away and face the consequences.
[subscribelocker]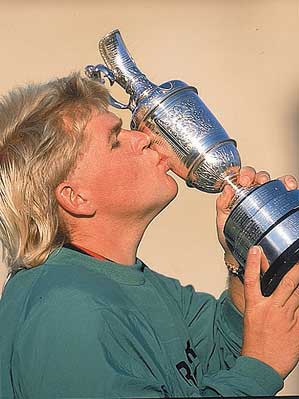 JD, a British Openwinner who grew up honing his game at Arkansas Golf Courses, never really conformed to the clean cut persona of the professional tournament golfer. And he never tried to. His attitude on the course is just as cavalier as in his personal life, and his exciting, aggressive play reflects that. John Daly is who he is, and although some would say he could have achieved a lot more in the game, it is debatable whether he would be a two time major champion without playing golf in the same way he lives his life. He brings a sense of humanity and humility to the game. Whether it's down-right brilliance or cringing self destructive behavior, you have to admit that there is rarely a dull moment when he is on the golf course.
He could obviously benefit from more self-restraint, but golf needs characters like him. In a sport where most players fit the mold of the classic all-American, Daly plays with his heart on his sleeve and it's awesome to watch. It would be great for golf to see him back playing regularly on the PGA Tourand competing in majors again.
Golf needs Tiger for a different reason. Although he is no longer the perfect role model for young kids, he is the greatest to have ever played the game and he has made the sport more popular than ever. Golf is not just a game, it has so many other benefits for personal and sociological development that it is amazing what positive exposure he has given the sport.
Being Tiger Woods and one of the world's most respected sportsman gives him a huge responsibility to act with integrity at all times, which he has now failed in doing. He is, and will continue to pay for the huge magnitude of his mistake(s), but the game needs him back on the course doing what he does best. The sport is simply a lot more popular when he plays and he raises the bar for all his fellow competitors.
What is now most interesting, is whether the golfer attributed with having the best mental game of them all, will have the mental tenacity to overcome all the negative attention and get back to playing his best golf. As Tiger said in his statement, "It's not what you achieve in life, it's what you overcome".
[/subscribelocker]