Kingsbarns: as good as any of the ancient links courses
Anyone who has played golf knows that St. Andrews, Scotland is the birthplace and "Home" of the game. The game originated here in the 15th century, and if you have been fortunate enough to play at any of the town's ancient courses, you will understand why the game of golf has such enduring longevity. This place gives you a true sense of the Spirit of Golf. These links courses were designed by the hand of Mother Nature over thousands of years, and what you get is golf in its rawest and purest form.
So when Mark Parsinen, a successful Silicon Valley entrepreneur, approached the R&A with a plan to develop a new golf course a few miles around the coast from the Old Course, I'm sure that many eye brows and concerns were raised. Could a new course be built that could provide a true links golf experience and lure the golfing world with such an established pedigree of courses as neigbours?
[subscribelocker]
At Kingsbarns Golf Links, that is exactly what has been achieved. After securing a £1mn interest free loan from the R&A, work began to create another masterpiece on the Fife coast. Along with designer Kyle Phillips, Parsinen and his team moved as little earth as possible to create the links, making optimal use of the existing natural contours. The routing and layout were designed to ensure every hole has a scenic vista and provides a fine balance of risk and reward. On every tee, you are made to think carefully about your choice of shot and the subtlety of the slopes on the fairway and greens, makes this a true test of golf. The most memorable holes are the par 3 15th across the rugged coastline (below) and the magnificent par 4 18th, which has to one of the world's most dramatic finishing holes.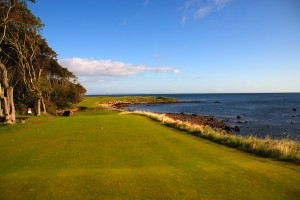 Since opening in 2000, Kingsbarns has already become one of the world's best golf courses and annually co-hosts the Alfred Dunhill Links Championship. I've no doubt it is an Open venue for the future.
The whole experience at Kingsbarns is quality from start to finish and there is amazing attention to detail. The staff make you feel very welcome and you know from the moment you arrive you are in a special place. The clubhouse was built in a classical design and is a wonderful place to talk over a round and perhaps enjoy a glass of Scottish Whiskey from an extensive collection. Kingsbarns has succeeded in becoming comparable to those ancient courses it has as neighbours and is undoubtedly one of world's finest links courses. It only enhances St. Andrews as the world's top golf destination.
There are an abundance of great places to stay in St. Andrews, from cosy B&Bs to 5 star hotels. At the upper end you have hotels such Rufflets, The Russacks and of course, The Old Course Hotel. At the more affordable end, you could stay at Nethan House. I can say from personal experience this is a wonderful B&B. For a consistently excellent restaurant in St. Andrews, I would recomend the Doll's House (Scottish and French cuisine) and for a true St. Andrews pub experience, try the Dunvegan and the Jigger Inn, alongside the 17th hole on the Old Course.
A visit to St. Andrews and especially Kingsbarns will undoubtedly whet your appetite for the game of golf. St. Andrews is synonymous with golf and if you love golf, you will love this town.
[/subscribelocker]