La Manga Club shows us why Spain is one of the World's best golf destinations
With the weather starting to cool and conditions for your favorite past time becoming much less favorable, there is no better time to head for Spain. Spain has too many alluring qualities to cover in a one page article. It is home to sandy beaches, exquisite wines, excellent gastonomy, a rich culture, and countless historical sites. But today, Spain is becoming more famous, not for tapas, football (the European kind) or bull fighting, but for GOLF. Spain can now be talked about as being on "par" with Scotland and Ireland as one of the best golf holiday destinations. It has produced some of the world's greatest and most exciting players. Seve first showed us what they are capable of in the early eighties and inspired successors such as Olazabal, Garcia, Jimenez and now Quieroz. But when you visit Spain, you can't fail to realize why this country is so in love with the game of golf.
[subscribelocker]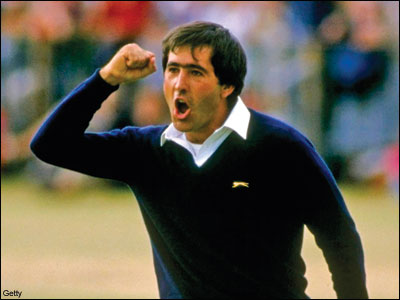 The climate is perfect for playing the game all year round. You can take a beach holiday here when most of the nothern hemisphere is in the depths of of a cold winter. Combine this with outstanding golf courses and the Spanish "Viva la vida" lifestyle and you have the ingredients for a wonderful golf break.
One of the finest golf resorts and frequent winner of the best golf resort in Europe, is the La Manga Club, located on the Costa Blanca on the south eastern Meditarranean coast. With over 300 days of sunshine per year, the Costa Blanca has been named one of the healthiest places on earth by the World Health Organization.
The La Manga Club has hosted many major European tournaments such as the Spanish Open and is the current venue for the European Tour qualifying school. Here you will find first class amenities and the perfect environment to work on your game or simply relax and pamper yourself. With 1400 acres, 3 championship golf cousres, 28 tennis courts, a spa, 35 restaurants & bars and even its own beach, everyone's interests are more than catered for. The Academy of Golf, is arguably one of the best practice and training facilities in Europe.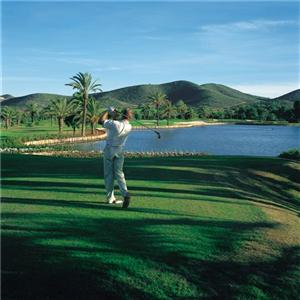 Each golf course is very diverse and unique but the general theme is undulated fairways, palm trees, large lakes, sculpted bunkers and barrancas (natural storm gullies).
The South Course was designed by Robert Putman and opened in 1971 but has since been redesigned by the legendary Arnold Palmer. A par 73 and 6700 yds, this course is long but fair and will provide a challenge to both the scratch and average player.
The North Course is slightly shorter at 6000 yds, but with narrower fairways it is no less challenging. The greens on this course have been built to USGA specification and are very fast and provide a great test of putting. The additional water hazards will keep you on your toes.
The West Course is the most tree lined and has more elevation changes and undulations. Every area of your game is tested here and course management and strategy more important than length.
The accomodation at La Manga is excellent and includes a Hyatt Regency hotel and 111 serviced apartments. The range of accomodation types mean that all your possible vacation needs are taken care of.
With such a strong representation in the world of golf, Spain is now firmly on the map as a great golfing nation. La Manga Club, is one of those places where serious sportsman can hone their skills, or where casual golfers needing a break can relax in luxury. It combines a great golf experience with a taste of Spanish Culture in very luxurious surroundings.
[/subscribelocker]