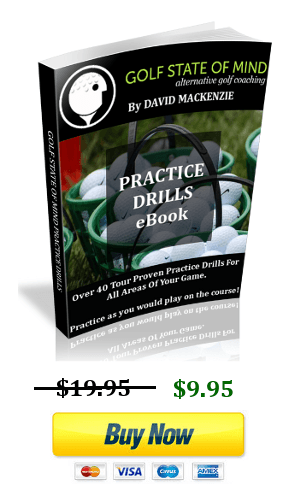 Time is precious. Make every second count; The most effective practice drills from over 15 years of coaching
It's extremely important that you make the most out of every second you spend on the driving range, short game area or practice green.
I've been coaching for over 15 years and I know what works and what doesn't. I put together 40+ practice drills and games to help others learn immediately what took me years to figure out.
These drills are right from the PGA Tour play book and are designed to put your game under pressure and work every area, so you can build confidence for the course. This compilation of practice drills WORK and will save you time and improve your game quickly. For a limited time, I'm offering a special for $9.95 and with the golf season now underway, it's the perfect time to take this opportunity.
"David's unique approach to coaching makes improving so simple. It's amazing how a change in perspective towards what's really important can make such a huge difference.."
– Adam Gee, European PGA Tour player and former World Amateur No.1
The 40 practice drills that will quickly improve your game:
Driving Range Practice
Pressure drills – simulate the pressure on the course
Play the course on the range
Feel drills on the range
Playing blind and feeling the shot shape
1 club, 3 distances
80% Effort drill
Building a Shot Library
3 Wedges, 9 shots
The good miss drill
Narrow your focus drill
Fundamentals Practice drill
Shot routine practice (on course game too)
Short Game Practice
Beat 15 drill
Hole out drill
Bunker drills
Slam Dunk Drill
Chip and run drill
Par 18 Short Game Drill
Box drill
The Penny drill
Old school drill
Putting Practice
Distance control warm up (pre-round)
Sharpening your vision (pre-round)
Putting routine practice drill
Sound of success drill
How to make the hole seem bigger than it is
Pressure putting
A great feel drill
Short putting drill
Phil Mickelson's drill for short putts
N-S-E-W Drill
Repetition and routine drill
Lag putting drill
Box drill
Finding out your dominant hand drill
Distance control drill
Take your body out of the stroke drill
How to develop a true roll drill
Banging in the nail drill
Consistent ball striking drill
All these drills have been proven by the elite players I've worked with. Don't waste time any more time practicing in the wrong way! How you decide to use your practice time now will determine the player you are in 6 months from now…