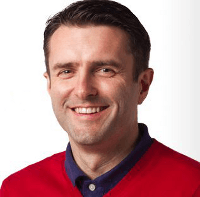 David MacKenzie has been coaching golfers of all ages and levels from beginner to Tour Pro for more than 15 years. Originally from England, David attended the University of St. Andrews in Scotland where he competed on the golf team. Since then, David has dedicated himself to developing a holistic approach to golf coaching which includes the physical, technical, mental and emotional aspects of the game.
David now coaches at Hill Top Golf Club in Alexandria
His philosophy on the golf swing is simple yet effective; his students learn how to build confidence in their game through strong fundamentals, a pre-shot routine, visualization, feel and control of emotions. Through unique practice techniques, lessons with David work all areas, especially the scoring zone of 50 yards and in.
In addition to teaching at Hill Top Golf Club, David runs his golf coaching website, Golf State of Mind. He has also written several books about how to implement his unique approach to the game.
Lesson rates: $110/hour, $60/half hour, $40/half hour junior, $275/5 half hours, $500/5 hours. 3 hole playing lesson: $110
Please respond to this post to get started!
Please call me for a free consultation on (571) 641-9687 or email david@golfstateofmind.com
Looking forward to helping you make this golf season your best yet!
"David's approach to coaching makes improving so simple. It's amazing how a change in perspective towards what's really important can make such a huge difference. All golfers, whether beginner or a Tour Pro like myself would benefit from his system."
– Adam Gee, European PGA Tour player and former World Amateur No.1