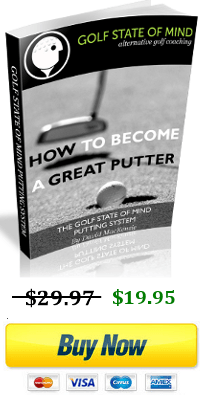 I have an opportunity for you to make 2014 your best golfing year yet. Whatever level you are, I know you can become a much better putter with very little effort. All it takes is a change in your mental approach and that's what you'll get with my latest eBook.
I've spent the past few months putting together the Golf State of Mind Putting System, that is designed to break down the putting stroke into something very simple and repeatable.
Putting is its own game. It's unrelated to your swing. For me it's an almost pure mental game and that's why I'm convinced that a 28 handicapper can putt just as well as a Tour Pro provided they integrate my putting system and can learn to read greens.
The new eBook is split into 7 modules:
Module 1: The Putting Fundamentals
All great putters share the same 4 things in common, which anyone can adopt (no physical skills needed). In this section you'll learn the grip, posture and alignment.
Module 2: Reading greens
Even if you have a great stroke, you won't become a great putter without being able to read greens. Through interviews with Tour caddies and elite players, I've got simple techniques for you to get it right every time.
Module 3: What is your Putting Style?
Are you an arc putter or straight back-straight through? Are you right or left eye dominant? What does this mean for your approach to each putt? I'll show you in this module.
Module 4: Putting with Visualization and Feel
Free yourself from mechanical thoughts and zone in on the line to the hole. This section focuses on the sensory aspect of putting and connects what your mind sees (a clearly defined line to the hole) and it feels to hit that put. Through exercises, you'll develop a great sense of feel for putts, to make 3 putting a thing of the past.
Module 5: The Pre-putt Routine:
How you spend the 30 seconds before each putt will determine whether you give it your best effort. I'll show you the 7 things you must do to give yourself the best chance of making every putt.
Module 6: How to putt under pressure
The very best players don't let the pressure of the situation affect the way they putt because they know techniques to calm themselves and focus on the job at hand. In this section, I've got plenty of drills and techniques to reduce nerves and keep you focused on the job at hand in pressure situations.
Module 7: Practice drills
This section gives you games and drills to make practice fun yet very challenging. Putting on the course will be a breeze when you've gone through your paces with these 30 practice games! This book is worth the money for these drills alone.
All these modules have been designed from working with players of all levels from beginner through to Tour pro and if you take the modules in sequence it will lower putts per round and take your game to the next level.
"Putting is an almost pure mental game and this system shows you how to approach each putt in the same way as a Tour pro does and practice drills to reinforce it." – Adam Gee, European PGA Tour