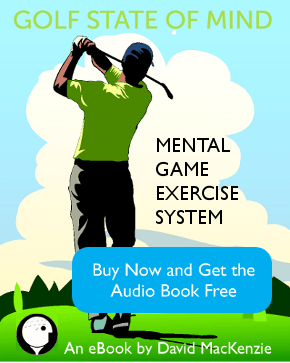 I'm excited to share the new Golf State of Mind Mental Game Training Program with you. In golf, your mind can work for or against you. How you choose to apply and train the mind makes a huge difference in what you ultimately achieve. I've made it my focus over the past 15 years to find the optimal way to train your mind for better golf and this is what I'm going to share with you in this program. If you choose to practice it, you will see better scores.
Golfers have been asking me the same questions for years:
What can I do to play better under pressure and avoid mistakes?
Where should my focus be over a shot?
What is the best way to practice?
How can I work on improving my mental strength?
How can I improve my concentration and the key moments?
How can I use my mind to putt better?
What can I do to forget bad shots?
What is the best pre-shot routine?
How should I mentally prepare for a big tournament?

Who needs the Golf State of Mind Mental Game Training Program?
This program is for golfers of all levels. Whether you're an aspiring Tour pro or weekend player, you'll benefit from this teaching. If you really want to see long-lasting improvement and develop mental toughness and a game based around visualization and feel, instead of swing mechanics, then this program is for you.
This program has been devised after extensive research and interviews with golfers of all levels and gets to the bottom of what the optimal mind-set is for golf and how to get closer to achieving it. You'll learn the same drills and work towards the Tour player mindset with every practice session on round.
If you don't see any improvement after using the Golf State of Mind Mental Game Training Program, you'll get your money back, it's that simple.
Take a look inside…
Meet The Author, David MacKenzie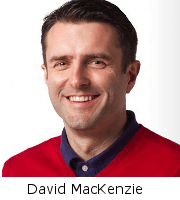 The sole purpose of The Golf State of Mind Mental Game Training Program is to help individuals reach their potential as golfers. I have studied every aspect of golf coaching and sport psychology, and I have been training golfers since 2007. Throughout all of my experience in coaching, I have been consistently reminded that the mental aspect of training is the most important. I created this program so that I could help golfers all over the world, perform their best.
What are golfers saying about the training program?
"The mental game is without a doubt the major difference between the amateur and Tour Pro. The Golf State of Mind eBook is a highly effective way to learn and practice it and take you closer to the optimal mind-set."
– Adam Gee, European PGA Tour player and former World Amateur No.1
"David captures the real essence of how to play golf with a clear mind while helping you focus on a repeatable process, instead of the technical details. David can help any golfer find his natural self. By doing this, he makes the game simpler and more fun for all. Way to go David." ~ Eben Dennis, Power Feel Golf and Former Mental Coach for Nick Faldo