Le Golf National de France: this year's French Open course is open to the public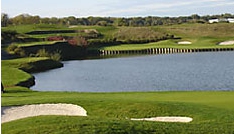 Located 20 miles west of Paris, near the Palace of Versailles, you will find the 45 hole public golf complex of the Le Golf National de France. Built in 1990 to be the permenant home of the French Open, the Albatross Stadium course is built in the "stadium links" style and is probably the toughest test of golf in the Ile de France region.
Le Golf National began hosting the French Open (one of the oldest golf tournaments in the world) in 1991 and has been the host venue ever since. With such recognition, the Albatross course has since been voted the 4th best course in Europe. For a true appreciation of what golf in France has to offer, this course is well worth a visit on your Paris vacation.
[subscribelocker]
Designer Hubert Chesneau set out to create a course in the American TPC mould, which meant choosing a site on clay to achieve maximum sculpting of the layout. The result is an inland links style course with gently rolling fairways, heavily undulated greens and plenty of water hazards.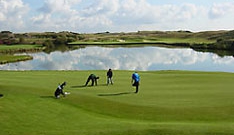 There is definitely a general theme of risk-reward which makes for a very entertaining and challenging round of golf. A good example of this is the 15th hole, where a tee shot aimed away from the water on the right hand side can result in a 3-4 club difference for the second shot, which to an island green can make the approach vastly more difficult.
Although it is long (over 7000 yards from the back tees), the fairways are wide and generous. Heavy penal rough, vast water hazards and huge bunkers will keep you focusing on the short grass.
For a course that is consistently in great condition, it is excellent value for money (60 euros during the week). The facilities at the complex are first class. In addition to 36 holes of championship golf, there is a 9 hole par 32 which provides the perfect warm up or 2 hour round. Accomodation is available at the Novotel hotel (which is part of the complex) and play and stay packages are available.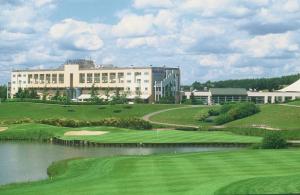 If you are thinking of a golf vacation or a weekend break to Paris, you would be surprised to learn of the superb quality of the golf courses surrounding the city. This year's French Open is held between July 1st – 4th, so a visit around this time would ensure you play it the way it is set up for the best players in the world.
[/subscribelocker]