President's Cup: Tiger Woods proves he's a team player; US lead 10-7
We all know by now that Tiger needs the pressure to be "on" to perform at his best and this morning at the President's Cup it was no different. Needing a 22 foot putt on the 17th to stay in the match against the International team of Weir/Clark, Tiger made one of those putts we've seen him make so many times down the stretch throughout his professional and amateur career. Literally willing the ball into the hole (as he has the ability and tendency to do) he secured the win and tied up the match, to the elation of the San Francisco crowd.
[subscribelocker]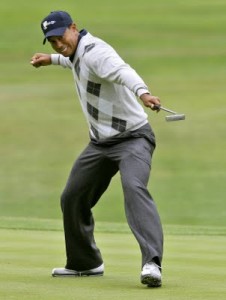 The momentum now clearly shifted to the on-form Woods/Stricker US team. Adrenaline pumping, Tiger produced one of the shots of his career at the 18th which forced the International team into submission. With 220 yards left of the tough par 5 closing hole at Harding Park, Tiger ripped into a 3-iron, and when the TV camera showed him staring it down, there was only one place it was going to end up (7ft from the hole). The International team could not get closer than that in 4 shots and the match was conceded.
This is proving to be an unstoppable matchplay pairing. Stricker is no.1 in putting and scoring and no.2 in scrambling on the PGA Tour this season and he's been a birdie machine this week. Tiger has never won 4 matches in any of his previous 5 President's Cups, and with disappointing Ryder Cup appearances in the past, he will no doubt be revelling in his play this week. At 5 up after 10 this afternoon, it looks like they will remain undefeated and Tiger will make this is best performance yet in a President's Cup.
[/subscribelocker] Photos courtesy of Jeff Chiu (AP)