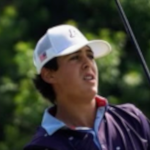 My work with David has allowed me to grow as a golfer and a person. David has helped me to understand that change happens by hard work, patience and trusting the process. This last year with David has given me important tools to be more thoughtful on and off the golf course, to work through the harder moments and to find joy while playing the game I love.

When I first started working with David I was a hothead on the course, but he turned me into the polar opposite. He helped me figure out mental strategies and techniques to stay calm, focused and play with freedom. I can only thank David for helping me play better golf in tournaments.


"Working with David has helped me in many ways, from goal setting to being mindful of how I am thinking and feeling during times of pressure, stress, happiness, etc. The things that David has taught me, not only apply to golf, but to every day life, and have helped me grow as a golfer and a person."


"Working with David has allowed me to completely shift my perspective whilst competing to allow myself to become more mentally tough. My confidence has soared as I have learned how to deal with any negative self talk as well as being able to separate what happens on the golf course from my life outside of golf."


Since I started working with David 4 years ago, he has helped me work on my mindset for both on and off the course. As a result, I've become a more mentally tough and confident player, which has led to more success in tournaments and more productivity and well-being off the course.


"Over the last year, David has not only helped me find my game back, but helped me elevate it to new levels. With his online lessons and video calls, I was able to drastically change my approach of the game. My attention is less outcome driven and more process driven now. This has not only helped me reduce the emotional attachment to shots, but it ultimately made me a happier golfer."


"The mental coaching sessions I've done with David have helped me play through some of the biggest moments in my golf career. I wouldn't have been able to play some of my best golf without him and he has helped me play more relaxed golf and made it more exciting for me."


"After working with David for a few years now, I can already tell the significant improvement in not just my golf game but in my overall well being too. I used to let my golf scores dictate my life, good or bad, but after my lessons with David, I have gotten to learn and be comfortable with that it is just a game, and life goes on. Subsequently, my scores dropped by 5 shots on average, and I am at much more at peace with myself. Thanks David!"


"The importance of the mental game in golf can't be overstated and David has been an instrumental part in my mental development as a golfer and individual. Since I began working with David, he has devoted a great deal of time and effort into helping me strive for excellence and achieve my goals. In the past year or so, I can owe a a great deal of my success to the guidance and wisdom he has provided me."


"Since I realized the importance and starting laying more emphasis on the mental aspect of the game of golf, I have not only lowered my scoring average but also changed my outlook on how to approach each shot. Working with David has helped me neutralize the emotional connection to each shot, leading to better pre- and post-shot routines, shot acceptance and decision making. Lessening the "emotional rollercoasters" therefore contributes towards maintaining a consistent attitude throughout the round. This has let me excel when I am playing well, yet still prevail when I have brought my B-game to a tournament."


"Since working with David Mackenzie my outlook on golf has completely changed and because of that my success has continued to grow! Instead of measuring my rounds by by score I now measure my rounds by how well my process was and by no coincidence it seems that when my process is better my scores are lower. I am excited to keep working with him and see where this journey takes us."


I have been working with David MacKenzie for several years and have really learned and benefitted from his wealth of information. How to utilize my time to practice and prepare for tournaments has been extremely helpful as well. With 11 grandchildren I spend much less time practicing these days! Also using the mental score card in competition has definitely helped me solidify my pre and post shot routine in competition. My scores are considerably better in tournament play vs casual play. Thanks David!


"Working with David has been very productive and beneficial for me. He is a great listener and has equipped me with a variety of tools to face pressure. The mental aspect of the game is a never ending process but thanks to David, now I do have a process! He trains me to focus on what I can control and on having specific process goals in order to stay grounded in the present moment at all times. I am beyond grateful to have David on my team."


"David has helped me truly enjoy my golf by helping me let go of expectation and results and play with freedom and focus. The rewards for my work with David has been showing in my recent achievements one being winning the Slovakia Amateur Championship."


"Working with David has really helped me develop a strong mental process meaning my focus is in the right place before and during shots, which makes a big difference when playing tournament golf".


"David has been a tremendous help preparing mentally for tournaments and helping me with techniques to deal with the challenges in every round. I've never felt so ready for an event before it starts."


"David is a great speaker and does a wonderful job making the mental side of golf relatable to golfers of all levels. His approach is very practical and easy to follow and the library of resources is extremely useful! I recommend my students work with David – he bridges the gap between instruction and bringing your game to the course!"


David MacKenzie is truly an expert in coaching the performance skills of the mental side of golf. For what is complicated for most to communicate, David does in a simple, clear, and effective way. His ideas help golfers shoot lower scores and enjoy the game more.


"David has helped me reach a new level in my golf game. He has equipped me with a toolbox full of techniques to help me succeed in high pressure situations. One of the things we have focused on is building a process that works for me and that I can rely on. Since I started working with David I have learned how to build confidence, which is a key to competing at the highest level."


"Working with David has helped me tremendously. From my routines in tournaments, state of mind before and during events, helping me to make my practice as productive as possible and helping me to focus more on what I can control. Since I've been working with David I feel a lot more comfortable in tournaments and every week I'm gaining more confidence."


"David is a phenomenal mental coach. He is able to relate to my questions and experiences by being a golfer himself. He helps you find the keys to why you play well, so you can consistently repeat that in tournaments. Personally, he has pushed me to more effective practice each day, working harder, focusing more on what I can control and developing a more positive attitude."


David MacKenzie has helped me take my game to the next level especially by being able to stay more present on the golf course. He knows what it takes to get to the next level in golf!


"Working with David has been monumental for my golf game. He has taught me how to score in tournaments and be very successful in them. He makes everything so easy to understand and very fun to learn. I am very grateful for David and his coaching. Great coach and an even better guy."


"If you want to consistently perform better on the golf course, under pressure, work with David MacKenzie! In a brief amount of time, he's taught me mental skills which have helped me play great golf. His affirmations helped boost my confidence to believe in myself and my abilities."


"Working with David MacKenzie helped me reach a whole new level in my game and the techniques we worked on were key to my winning this year's Russian Junior Championship. He has a great insight into the mind of an elite golfer and I use his techniques during every round to keep me confident and focused. Thanks David!"


David is amazing!! After just one short session, I knew my golf game would improve. David gave me techniques that really helped free up my putting. I'm much more relaxed and confident on the greens. He also taught me ways to stay in the present moment. This is a constant struggle and David's unique post-round review worksheet really keeps me on track. Thanks David!! Your work is priceless!!


David has been a huge help to making me break-thru mental barriers that prevented me from playing golf to my full potential. The work David and I have done together has made me confident in my abilities and trust that I have what it takes to play great. David's mental techniques to unlocking my golf game have helped me push through junior golf and move onto the collegiate level.


David's teaching cuts through all the noise in golf coaching and gets to the heart of what's really needed to consistently improve.


David has helped me quieten my mind in pressure situations and given me a solid mental process to manage my thoughts and emotions for the entire round. It's given me a whole new level of confidence in my game and it show's in my results.


"David has helped me remove those mental blocks that we're preventing me from taking my game to a new level. David's sessions have made me feel more confident and helped me trust my swing. His system makes the mental side of the game easy to comprehend and easy to take action to use it to your full advantage. Thanks David!"


As a student, coach and instructor in the game of golf I have dedicated endless hours in research of the best approach to conquering the mental side of golf. David MacKenzie has developed the ultimate mental game training system for golf. David has put together a program that not only explains "what to do" but clearly defines "how to do it". Providing an effective and easy to implement system is where many mental game coaches fall short and David's program is absolutely spot on!


"Working with David has given me the tools to become much more confident in my potential as a golfer. He tailored his teachings to my individual weaknesses and helped me overcome negative thoughts that I had experienced on the course. His work with numerous elite players has given him tremendous insight into what it takes to play to the best of your ability. "


Of all the mental training packages available, Golf State of Mind is at the highest level. The content is superbly written based on good science, and knowledge David has gained from the many high-level players with whom he works. More importantly, the drills and exercises for their application are clear. Dial-in! This stuff really works.


"Since working with David for the past couple of years, I've seen a huge increase in my confidence, focus and my ability to handle the pressure of big tournaments. David's process has without a doubt made me a mentally tougher golfer."


David has helped me build a stronger mental process and a quality practice regimen, which has made me feel like I'm consistently working towards my goals. With my new "process" goals, I feel less pressure to score and I can feel my confidence growing with each round.


I want to thank you for helping make this a "break through" year for me. I am having fun again playing golf, and look forward to reaching new goals. The "process" that you helped me incorporate into my game gave me real purpose over every shot.
Your coaching style is fresh and insightful, but more importantly you empower the player on their personal journey to better.


Working with David MacKenzie helped me reach a whole new level in my game. He has a fantastic insight into the mind of an elite golfer and I use his techniques during every round to keep me confident and focused. Thanks David!


Over the past 6 weeks I have had a number of good finishes and played some very consistent golf. This is largely down to the work I did with David MacKenzie at "Golf State of Mind" over the winter. I am extremely relaxed and at one with myself on the course and able to get rid of any disappointment that may of lingered in previous years after a bad shot.


David's Golf State of Mind Training System has given me specific things to work on to improve my mental game and I've seen huge improvement in my ability to play under pressure.


David Mackenzie has a subtle yet genius approach toward the mental game. I got the chance to work with him and his knowledge of the mental game really helped to change my thought process on the golf course. After working with him, I felt more confident and I look forward to working with him in the future!


David's coaching highlights the difference that makes a difference. When you practice these fundamentals you not only remove self imposed interference, but it returns you to your natural brilliance. Simple and deceptively brilliant.


The tournament I played after reading David's Training Program I hit 50 out of 54 greens and it had everything to do with his powerful concepts.


"In David MacKenzie, you have a coach who really understands and applies that simple but profound truth."


"On Tour you have to do everything possible to squeeze extra shots out of all areas of your game. David's coaching has taught me how to quieten my mind in pressure situations so I can think more clearly and access my best swings."


"David's coaching makes playing good golf simple and effective. It's amazing how a change in perspective towards what's really important can make such a huge difference. All golfers, whether beginner or a Tour Pro like myself would benefit from his system."


"David MacKenzie has created an amazing tool for anyone ready to tackle the mental game of golf. His "Golf State of Mind" system is very organized and yet exquisitely simple. David takes you through each aspect of the game, from long to short, talking you through the stumbling blocks and helping you clear them out of your way. I love it. His insights help my golf game, and my everyday life."


"David is certainly what you would call "a mental game guru". Not only does he have deep insight into how to maximize performance using the power of the mind, but he communicates it in a way that's easy to understand and easy to apply. Golfers of all levels can learn how to build confidence and get out of their own way with David's coaching."