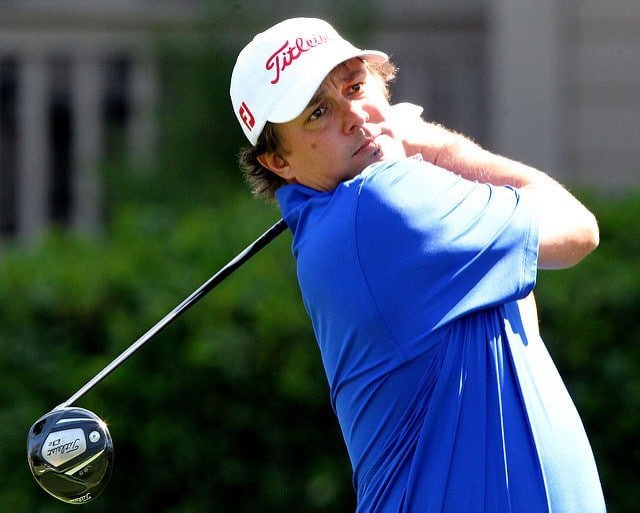 You've probably already guessed what the number One swing killer is: Tension.
In this article my goal is to help you:
Prevent tension in the golf swing
Become aware of any tension in your body
Lower tension to you can swing freely
Why do we get tense?
We all want to play well on the golf course. We all want a good result. That feeling of winning and being successful is one that we all want to experience as much as possible. But the bottom line is, the more we think about getting (or not getting) that result, the more we trigger fear and performance anxiety. We have to be present to be free of fear.
Whatever it is we are fearful of (golf performance or otherwise), we have the same physical response. We tense our muscles to protect ourselves from that (perceived) threat.
Focus on outcome – > Fear -> Tension in the golf swing-> Changes in swing mechanics
What does tension to do the golf swing?
During any round of golf, swing mechanics don't really change by themselves. Tension in the muscles destroys the fluidity (and tempo) of the golf swing and changes the whole sequence that you are used to when playing without pressure. This is one of main differences between the driving range and the golf course (no consequences vs consequences). In order to play our best, we need to do our best to prevent tension, and if it still appears, notice and relieve it.
How do we prevent tension in the golf swing?
Becoming immersed in the process of hitting golf shots – focus on what you can truly control, not what you can't
Staying present (fear and pressure don't exist in the present)
Not thinking about the consequences – keep yourself focused on the intention for each shot, not the consequences
Post shot routine – use techniques to stay neutral
How do we reverse the effects of tension in the golf swing?
Body scans
Practicing with different levels of tension in the muscles
Muscle relaxation techniques
Breathing techniques
If you can work on these skills during practice and play, I've no doubt you'll stay free on the golf course and see more of the good scores you know you are capable of (without trying too hard to get them!). If you'd like to learn the techniques to improve these skills, check out my mental game training products.
Photo credit: Keith Allison