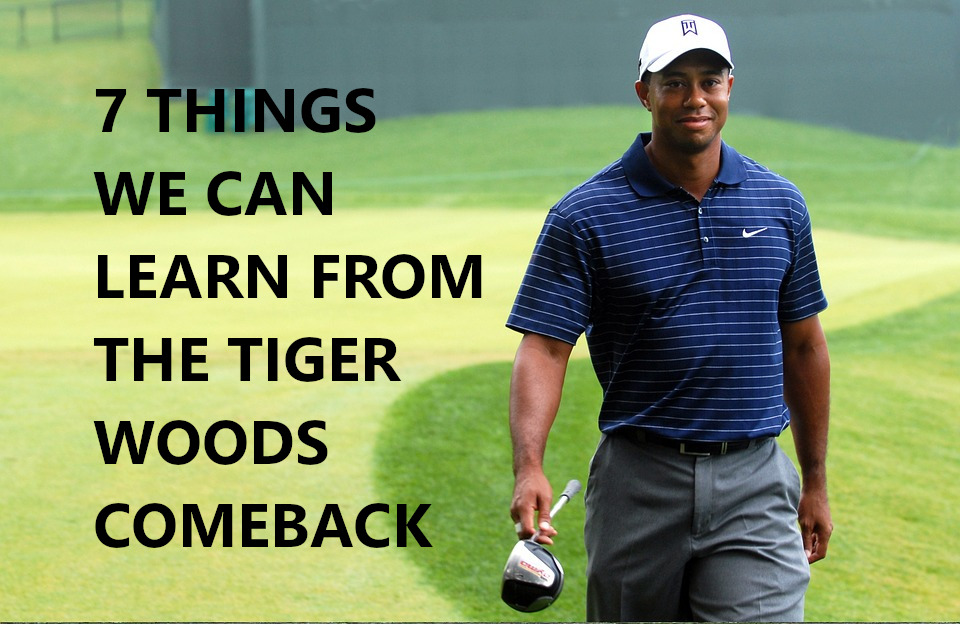 For all of us that play golf, Tiger elevated the game to an entirely new level from 1997 – 2008. In fact, it's undoubtedly why we have so many good young players in the professional game today. Rory McIlroy said recently:
"That's why you see the fields in tournaments so deep as they are today because Tiger inspired so many kids. It's also why I feel there is so much parity in professional golf right now because of Tiger and that's the legacy I believe he's left. When I was starting to get seriously into golf everyone wanted to be Tiger Woods and I was no different."
Tiger became a hero for most golfers and he seemed infallible. But from 2009 until this season he's showed that he's human just like the rest of us. He was no longer the invincible Tiger Woods who won his 14th major and would probably break Jack's record of 18 majors. Underneath that red golf shirt, he was just Eldrick Woods. Our hero had fallen and for while it looked like it was going to be a story with a sad ending.
But this year, there was a glimmer of hope. He narrowly missed out on a playoff at the Valspar in March, had a share of the lead in the 3rd round at The Open and finished just 2 shots back of Brooks Koepka at The PGA. It has us all asking the question: Are we about to see one of the greatest sporting comebacks of all time?
At The Tour Championship a couple of weeks ago, we were privileged to see it completed. But Tiger didn't just win again. He beat one the strongest (and "hottest") fields in golf and in my opinion, it confirms that he truly is the Greatest Of All Time.
What Can We Learn From The Tiger Woods Comeback?
So what can us amateur golfers learn from the mental game of Tiger Woods to help us play better?
1. Never Give Up!
Tiger was written off by almost every pundit in the game. Even though Tiger admitted that he was unsure whether he would ever play at the highest level again, he kept believing that it was a possibility. He stuck to his process and never gave up believing that he could compete again, despite most people in golf saying that he was finished.
Don't let anyone tell you what you can and can't achieve. With hard work and doing the right things anything is possible and you can make your dreams a reality.
2. Strength comes from struggle
Things couldn't get much worse for Tiger when he fell to 1005th in the world rankings a little over a year ago (He's now 13th). We've all experienced a slump or periods when we've struggled, but if we look at it objectively, we can learn a lot from those times and how we ended up there. With struggle and adversity we have an opportunity to grow as a player (and a person) and Tiger certainly did this.
"I've gone through a lot this year to get myself to this point, and understanding and fighting my way through it," Woods said. "I'm certainly much more equipped because of what I've gone through."
3. Have an attitude of gratitude
Back in the mid 2000's Tiger was so successful and famous that he expected to win every time he played. This would have made his fall from grace all the more difficult to deal with. Tiger knows that he used to take a lot in his life for granted, but now he has more of an "attitude of gratitude". The more grateful we are for what we have, the less expectation there is and the happier we will be.
"I appreciate it a little bit more than I did because I don't take it for granted that I'm going to have another decade, two decades in my future of playing golf at this level," Woods said. "It means a lot more to me now in that sense because I didn't know if I'd ever be out here playing again, doing this again."
4. Be level-headed
In golf, one missed shot can make the difference between winning and losing, so it's easy to get frustrated at missing putts or making mistakes and letting them affect the rest of the round. Tiger looked remarkably stoic and emotionally balanced in the past few tournaments – he was neither up nor down and seemed very accepting of everything that was happening on the course.
5. Be Patient
The Tiger Woods comeback has been a gradual process. During his recovery he would have learned the importance of patience off the course, which would have helped him on the course too. Every golfer needs to learn how to be patient and how to stay in the moment and not try to rush it. Break your big goals down into smaller ones. As the old saying goes, "Rome wasn't built in a day". It was built by laying individual bricks each day and you should have that same approach with your golf game.
Each day, ask yourself what you can do to take you closer to your bigger goals (whether it's short game, fitness, nutrition, developing mental skills etc.). On the course it's the same, your total score is an accumulation of everything you do in the individual moments and individual shots. Take care of the present moment and the future will take care of itself. Tiger is great at that.
6. Be prepared to fight
Tiger Woods has never been short of mental toughness, and in my opinion, it's why he's been so successful. The ability to keep fighting and embrace the pressure is what all great athletes have. Tiger said after the final round: "It was a grind out there, but I loved every bit of it. The fight and the grind and the tough conditions and I just had to suck it up and hit shots, and I loved every bit of it."
Tiger's ability to be able to handle stress and tension has been honed since he was a junior, playing rounds with his father Earl Woods who would take every opportunity put him under pressure and try to distract him. Throughout his career Tiger has become a master of dealing with pressure and in fact he uses it to elevate his performances. We can all remember those clutch shots like the chip-in on the 16th at Augusta in 2005 or the putt on the 18th at Torrey Pines to tie Rocco Mediate at the 2008 US Open. Average players aren't capable of dealing with that kind of pressure. Tiger relishes it and uses it play extraordinary golf.
You too can achieve extraordinary performances by learning how to deal with pressure and negate the body's stress response. This is a module in my Ultimate Mental Game Training System.
7. Anything is possible!
Hopefully the story gets even better from here. You can bet that Tiger will continue pushing for more tournaments and more majors and who knows what is possible. Just like Tiger would have done, let's choose to look at what is possible and how to get there, instead of listening to doubt.
Whatever you think about Tiger Woods as a person, he is without a doubt one of the most dominant athletes ever and that deserves huge respect. As we saw at The Tour Championship, Tiger has the crowd back on his side which gives him an advantage over any field, even before he's hit a ball. The struggles he's endured over the last 8 years have made him more human and relatable, and he's a more humble, more likable version of the Tiger at the peak of his powers.
I felt very grateful to get another chance to watch him win again and savored the moment. It's a great time to be a golf fan.
Mental Game Training Products