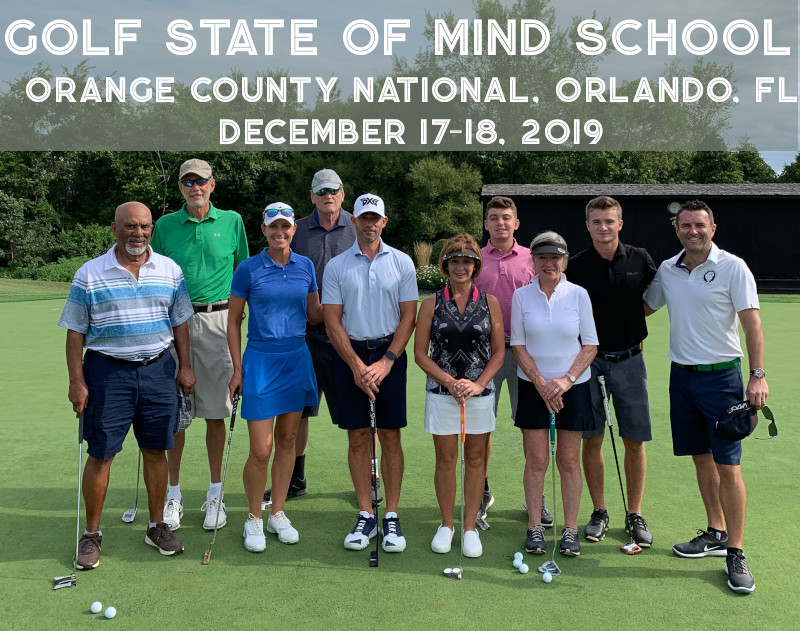 2 days of Performance coaching in Orlando, Florida on December 17th and 18th
During this 2 day Golf State of Mind School, you will learn:
How to Build an Effective Pre-Shot Routine
How To Access Your Peak Performance State Under Pressure
How To Improve Your Focus and Staying More In The Present
The Importance of Self-talk and Body Language
How to Manage Your Emotions on the Golf Course
How to Prepare and Warm up Before Your Rounds
How To Practice More Effectively So It Transfers Onto The Course
How To Use Mental Skills To Improve Your Short Game and Putting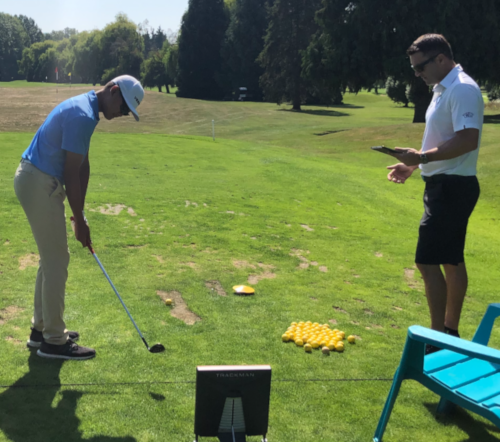 Details
Date: December 17-18th from 9-5pm each day
Venue: Orange County National, Orlando, Florida (more info here)
Max group size: 8 players
What's included: 2 full days of coaching, indoor seminars, 2 x 9 hole playing lessons, mental game assessment, access to Golf State of Mind online coaching program
Accommodation: Is available on the property (click here for info)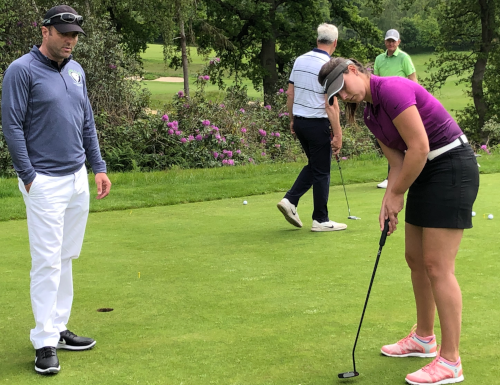 Testimonials For Golf State of Mind Schools
"On Sunday, I played in a Club Cup Competition – a medal where the top 4 go through to match play. I shot my 1st ever sub 80 round (in a qualifying competition), came 1st with a net 67 and got a 1.2 handicap cut! I even managed that with 2 double bogies on the card! Your coaching and mental game process were instrumental in my round. When I started with a double bogey, I was able to stay focused on the next shots and steady the ship. When I realized I was 'in the zone' after about 4 holes, staying present, staying with the process and taking each shot at a time stopped me from getting ahead of myself. Removing the fear of the shot's outcome from my game made it so much more fun – especially when I knew I had a great score going – something I've struggled to enjoy through the nerves in the past! 
I think the course has passed the test of 'a great course' with flying colors and I would and have, recommended it to any golfer who wants to improve, who wants to enjoy their golf more and who wants to set and reach new goals for their game – whatever level they may be at today.
Thank you David for all your help, support, challenges and coaching and for a fantastic and enjoyable course! Please also pass on my thanks to the rest of the team for their help throughout the 2 days." – Louise Spruce, Winchester
"I attended a Golf State of Mind clinic last summer as I had been struggling with aspects of my game despite working hard and having numerous lessons. The course covered all areas of the game starting with short game focusing on set up and shot selection. We then moved to the range to work on the full swing. This session was especially useful as it covered non technical areas of the swing such as tempo, grip pressure, pre shot routine and techniques to help with pressure situations. The final session was putting and covered a number of useful drills and practice stations. Followed by a pressure putting competition which was aimed at making you focus on your pre shot routine and trusting the process before executing the putt.
Since the clinic I have played some of my best golf which culminated in me qualifying for the Titleist/FootJoy matchplay finals in Portugal where I finished 2nd. I am now looking forward to the upcoming season and utilising the skills and techniques picked up from the GSoM clinic.
I would highly recommend GSoM to any level of golfer and will definitely attend clinics in the future" – Stephen Call
"I can categorically say the class was a rousing success. The class combined classroom instruction with on-course instruction and then playing 9 holes on both days. By David partnering with Andrew, we got a terrific blend of swing analysis as well as methods and tips for improving our mental skills. As all golfers know, Golf is always some combination of a solid swing with the ability to manage your emotions and your on-course process. Both David and Andrew are excellent teachers. They are calm, positive, and give helpful feedback. By including the swing instruction along with the mental instruction, it was very powerful. I feel that I have gained a much better sense of what I need to do mentally, and how to "reset" myself mentally when things go sideways. Since completing the class, I have had 2 rounds in the 70's, which I had not done for over 45 days. I highly recommend the class for anyone looking to strengthen their mental skills on the golf course." – Charlie Weston, Tampa, FL
"I recently attended a 2 day Golf State of Mind training session. First, a bit of background on my game. It seems I have been a 6 handicap for as long as I can remember. Most days I shoot around 80, a good day might be 77 or 78. I decided to participate in their program in an effort to see if their lessons and strategies could help me lower my score. This turned out to be the smartest decision I have ever made in an effort to improve my golf game. They presented their material in a clear concise manner and I was able to immediately put their concepts into play. Two days after the session I shot my lowest score ever, a 2 under par round of 70." – Philip Henley, Toronto, Canada
Testimonials For David MacKenzie
"Working with David has been very productive and beneficial for me. He is a great listener and has equipped me with a variety of tools to face pressure. The mental aspect of the game is a never ending process but thanks to David, now I do have a process! He trains me to focus on what I can control and on having specific process goals in order to stay grounded in the present moment at all times. I am beyond grateful to have David on my team." – Cyril Bouniol, Korn Ferry Tour, PGA Tour China Winner
I have been working with David MacKenzie for several years and have really learned and benefited from his wealth of information. How to utilize my time to practice and prepare for tournaments has been extremely helpful as well. With 11 grandchildren I spend much less time practicing these days! Also using the mental score card in competition has definitely helped me solidify my pre and post shot routine in competition. My scores are considerably better in tournament play vs casual play. Thanks David! – Gary Daniels, 33-time Club Champion
"Working with David has really helped me develop a strong mental process meaning my focus is in the right place before and during shots, which makes a big difference when playing tournament golf". – Josh Hill, Youngest Ever Winner Of A Professional Tournament at age 15 years 6 months
"David is a great speaker and does a wonderful job making the mental side of golf relatable to golfers of all levels. His approach is very practical and easy to follow and the library of resources is extremely useful! I recommend my students work with David – he bridges the gap between instruction and bringing your game to the course!" – Erika Larkin, No.1 Teacher In Virginia voted by Golf Digest
"David has helped me reach a new level in my golf game. He has equipped me with a toolbox full of techniques to help me succeed in high pressure situations. One of the things we have focused on is building a process that works for me and that I can rely on. Since I started working with David I have learned how to build confidence, which is a key to competing at the highest level." – Maia Schechter, LPGA Tour