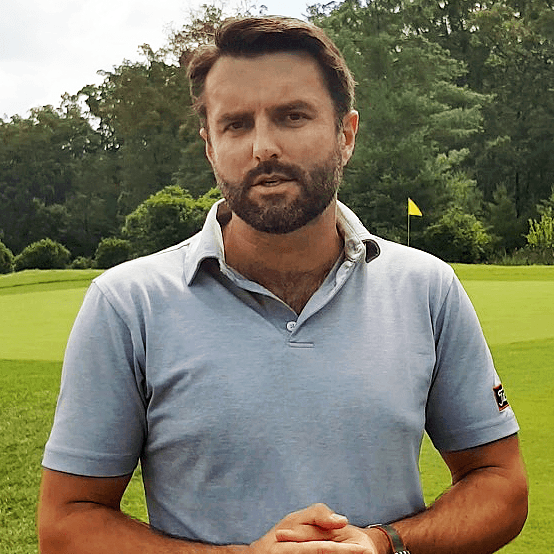 Are you ready to join 13,000 others on a journey to superior performance on and off the golf course?
My name is David Mackenize, and I've been teaching the mental game of golf for over 20 years. With your Golf State of Mind membership, you get an all access pass to every tip and trick I've learned over the course of my career. From the Tour pros to the up and coming players, everything you need to unlock the power of your mind and play better than ever is right here.
select the right membership package for you:
The Silver Package
An All Access Pass to:
Over 300 blog articles designed to skyrocket your performance
Exclusive, subscriber-only product discounts
Fresh, members-only content every month
New features added all the time!

The Gold Package
OUR BEST DEAL
EVERYTHING in the Silver Package, plus:
Access to over 400 audio recordings
New, subscriber exclusive recordings every month
10% off ANY one-on-one coaching package
New features added all the time!

Through reading the Golf State of Mind eBook, I've noticed a huge difference in my short game. The visualization and feel exercises have made me more creative around the greens and I am seeing the results in my scores. My driving range and practice sessions generally make me feel like I'm progressing. Thanks David!
Dear David, since I received The Golf State of Mind, of my last 10 rounds 83 was my highest. Half were in the seventies with 76 the lowest. Thanks Allen
David is amazing!! After just one short session, I knew my golf game would improve. David gave me techniques that really helped free up my putting. I'm much more relaxed and confident on the greens. He also taught me ways to stay in the present moment. This is a constant struggle and David's unique post-round review worksheet really keeps me on track. Thanks David!! Your work is priceless!!
Thought I would let you know that I played a quick 9 this morning on my home course and shot a 4 under par "32" with 4 birdies and no bogies. The part about feeling the shot, visualization and just enjoying the round helped me "go to the next level". Just the tone of the voice in it sets you up for a relaxed focused round. Last year at this time I was shooting in the low 80's and upper 70's most of the time. Although I have been playing for many years, this year has by far been my best with 2 sub par 70's just in the last month. I will be 57 next month and feel like my best golf is yet to come.
Working with David MacKenzie helped me reach a whole new level in my game. He has a fantastic insight into the mind of an elite golfer and I use his techniques during every round to keep me confident and focused. Thanks David!
Golfers are always searching for an extra edge. A swing thougt or key word or code. Golfers buy into the Marketing Man's Dream of extra yardage, spin, feel, fade or draw. We buy putter and drivers, change balls and wear lucky charms. But how many ever realize the secret is there for the taking – the key to good golf lies not in the elusive search for clubs, balls and charms, but in one fundamental used by every Professional Golfer. Without exception. The Pre -shot routine. Listen to the words. Burn them on your hard drive. Leave the Marketing Man's Dream to others. This is the secret which leads to the promised land. Better golf, solid strikes and lower scores. It just takes practice and application and those words become your fifteenth club in the bag.
Using a focused approach to visualisation and a bullet proof pre-shot routine my golf has been transformed this year with the GSOM tools. It's a complete turnaround – I used to completely buckle under pressure. Now it's the opposite. In those pressured situations I've played out of my boots and I've relished the challenge. The fear has gone out of the game. I'm just loving playing again
David Mackenzie has a subtle yet genius approach toward the mental game. I got the chance to work with him and his knowledge of the mental game really helped to change my thought process on the golf course. After working with him, I felt more confident and I look forward to working with him in the future!
David's coaching highlights the difference that makes a difference. When you practice these fundamentals you not only remove self imposed interference, but it returns you to your natural brilliance. Simple and deceptively brilliant.
"Working with David MacKenzie helped me reach a whole new level in my game and the techniques we worked on were key to my winning this year's Russian Junior Championship. He has a great insight into the mind of an elite golfer and I use his techniques during every round to keep me confident and focused. Thanks David!"
Golf State Of Mind heavily concentrates on helping the player stay in the moment, and helps the player overcome the ghosts of shots past and shots future. To date, I've read the eBook three times all the way from beginning to end. I have much work to do on my mental game, and much more time to spend working on refining it. Golf State Of Mind will be in my iPod, in my computer and in my car to help me get my game on the right mental path.
The simplicity of the techniques used means golfers of any level will benefit from the Golf State of Mind. Whether you are a club player or touring professional, I would recommend these audio sessions to greatly improve your mental approach to the game.