These are just a couple examples of the dozens of stretches and exercises covered in The Power Golf Fitness System.
Foam Roller Muscle Release for the Lower Body
Key exercise points:
Assume the position shown for releasing each muscle group.
Search for the tender areas.
Either pause on the tender area and/or move back and forth over it in small strokes 5-10 times.
Keep some tension in your core to stabilize your spine and lower back.
Although you are looking for the areas of discomfort, only allow it to be a 7/10.
Perform 30 seconds on each muscle group.
Prone Cobra
Key exercise points:
You get out of this exercise what you put into it. Be meticulous with your form and give 110%.
Make sure your hands face away from your body and your thumbs point upward. Check to assure your form matches that of the picture below.
Keep your head in neutral – do not allow yourself to look up (most common form error).
Contract your glutes and your abdominals to avoid over utilization of your lower back musculature.
Hold for 30 seconds and then rest for 15 seconds. Repeat for 2-6 sets. Eventually work to reduce the number of sets, with the final goal being 1 x 3 minutes straight.
The Power Golf Fitness System.
Never before has it been so easy for serious golfers to get professional fitness training. The Power Golf Fitness System is a complete system that will strengthen every part of your golf game.
And it is designed to be easily done at home in only 30 minutes per workout. You'll get all the videos you need to show you exactly how it's done.
The Power Golf Fitness System will strengthen the four critical areas required for peak performance and injury prevention. This is the exact system that Stephen uses with his professional and serious amateur golf clients. They've seen incredible results – and you will too.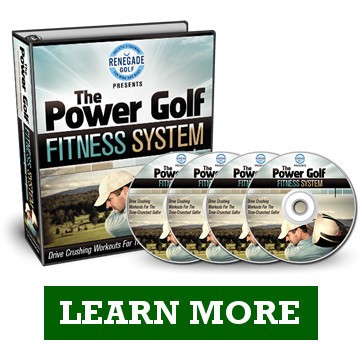 And now, for a limited time, all subscribers of Golf State of Mind, also get the added BONUS of Three Golf Hypnosis sessions, including:
Track One – Drive Time: Crush It Off The Tee
• Steal Tiger Woods' instant "Drive Trance" technique… and enter into the ideal Mind/Body State for optimal Power and Distance.
• Program your subconscious mind with all of the crucial swing thoughts (regardless of your swing style)… never get bogged down with the epidemic of "paralysis by analysis" again.
• Attain the perfect combination on structural stability and muscular fluidity… the two essentials of consistently driving the ball long and straight.
• Step up to every tee box with supreme confidence, knowing that the outcome is pre-determined… all you have to do in hit "GO".
Track Two – The Perfect Golf Swing
• Finally become one with your swing (it's not as far out as you might think… and it's the ONLY way to go low day in and day out). Learn how golf is like walking a tightrope (the mental process necessary for success is exactly the same).
• Transfer your perfect practice swing over to a dead-on reliable swing on the course… where it really counts.
• Let go of muscle tension… instantly… for a silky smooth swing – every time.
Track Three – Putt For Dough
• Own the smooth and easy flat stick stroke of a seasoned pro… without the backbreaking hours on the practice green.
• Eliminate three putts. Discover how ancient Zen archers tricked their minds into believing it was impossible to miss… and how you can steal their methods to drain putt after putt on command!
• Effortlessly link up your unconscious mind and your body every time you approach a green (the KEY to consistent scoring). Turn on confidence faster than flicking on a light switch.
• Once you get your unconscious mind and your "awake" brain on the same team, you'll be a very dangerous golfer.