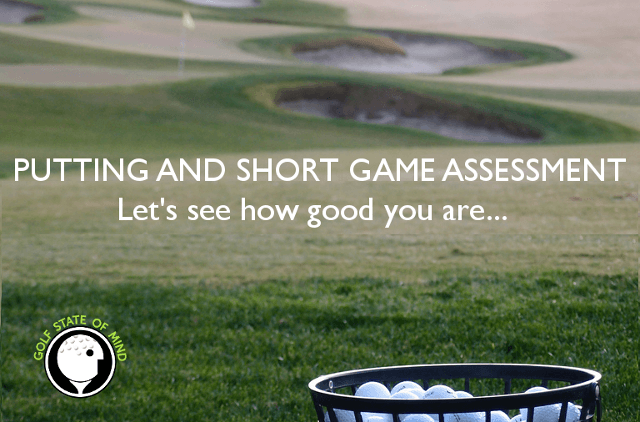 As you'll know if been following GSOM for any length of time, one of the keys to better performance is to be able to put yourself under pressure during practice and simulate the same feelings you have on the golf course. This will improve your ability to focus on what's most important during a shot and allow you gain easier access your best skills on the course.
All practice sessions should be finished off with some sort of competitive challenge, depending on what you're working on.
If one of your short-term goals is to improve your short game and putting, then here's a couple challenges for you. Record your scores and work to beat that each time you try it. Create consequences!
4 TO 40 PUTTING CHALLENGE
Starting at 4ft, place balls every two feet, all the way back to 40ft in a straight line away from a hole. You'll have 18 putts.
Place a coin 2ft behind the hole and 1ft in front of the hole (the gimme zone).
Hit each putt with the following scoring system:
Putts from 4-24ft
PAR = past front of the hole but not longer than 2ft coin
BIRDIE = Make
BOGEY = putts hit outside gimme zone
Putts from 24-40ft
PAR = past coin 1ft short of hole but not longer than 2ft coin
BIRDIE = Make
BOGEY = putts hit outside the gimme zone
Record your points in your performance/practice journal
You'll notice that more points are rewarded for getting the ball beyond the hole for misses. The reason is that (obviously), you can't make a putt if you leave it short, no matter how good your line is. Second, to become a great putter, the ball needs to be travelling at the right speed. In his putting studies, Dave Pelz discovered that the optimal ball speed took the ball 18 inches past the hole. Any slower than that, the ball was more likely to be affected by the impressions around the cup (think about where people stand when they get their ball out the cup or tap a lag putt in). The area around the hole is where the most footprints are around the green.
5-BALLS, 5 DISTANCES PUTTING CHALLENGE
Mark putts at 5, 10, 15, 20, and 25 ft from a hole, in a straight line.
Place one ball at the 5ft mark, two balls at the 10ft mark, three at the 15ft mark, four at the 20ft mark, and five at 25ft.
The goal is to make one putt from each distance with the balls allotted, starting with the 5 footer. If you fail to make at any distance, start over!
See how many rounds you need to pass the test!
10-BALL SHORT GAME TEST
You will need just one ball and an open green.
You are going to hit 10 different shot game shots (5 pitches, 3 chips, 2 bunkers) and each shot needs to be different.
After you hit each shot pace of the distance to the hole.
A missed green = 50ft and a made shot = -10ft.
After hitting all 10 shots total up the number of feet to get your total score and record it in your journal. Try to beat your best score each time!
WANT MORE GAMES LIKE THIS?  CHECK OUT THE GSOM PUTTING SYSTEM: