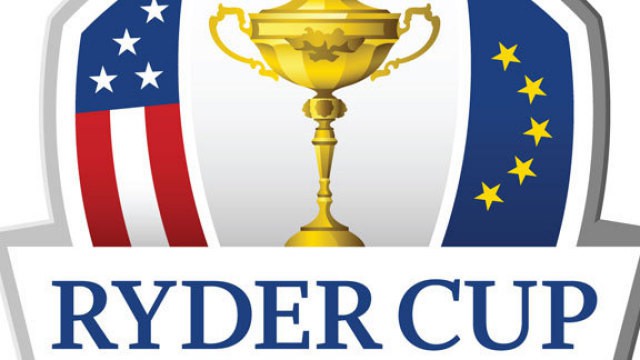 How would you handle the first tee of The Ryder Cup?
The first tee at The Ryder Cup is probably the most feared and pressured golf shot that Tour players are likely to be faced with. The jitters are so severe, that even the most experienced of players can struggle just to place the ball on the tee.
"I was so nervous in 1997 I couldn't get my ball to stay on the tee. It's quite funny watching it now. I look quite calm and collected, and I almost look as though I know what I'm doing. But my hands were shaking and my eyes glazed over a little bit and it was obviously a completely different experience to what I'd been used to." – Lee Westwood
We've all had our own (mini) Ryder Cup moments.
You've put in the hours practicing and you feel well prepared for a big tournament.
But then, as you walk onto the first tee you're nervous as hell.
You feel like everyone is watching and your mind becomes scrambled.
"How do I play this game again?"
"Just don't make a fool of yourself!"
"Let's just get this ball away, anywhere in the general vicinity of the fairway, but more importantly, away from all these people watching."
Multiply that by a thousand and you're still not even close to the pressure on the first tee of The Ryder Cup.
The Ryder Cup is a more mental game than a physical one.
All 24 players, can play this game under pressure.
But The Ryder Cup takes playing golf under pressure to whole new level. But just as you can improve your ability to handle pressure in your amateur tournaments, Ryder Cup players get more capable to handle this pressure the more they experience it.

Here are some of those pressure handling tips (with a few of my own thrown in):
Simplify things:
"When I faced a putt from 10 feet to win The Ryder Cup in 2002, I was very clear about what I was doing with my putting stroke. I was very clear about the line on which I had to hit the ball. I kept things simple. I didn't allow worries to enter my mind: don't leave the putt short, don't miss it right, don't miss it left, if you miss you are going to let the team down. What about the hundreds of millions of people watching on television? Instead, I thought: there is a ball, there is the putter in my hand, this is the line I have to hit the ball along in order to get it into that hole. By keeping things simple, I got the right result and the ball went in."– Paul McGinley
Remember your routine:
"Whenever we as professional golfers get into pressure situations we fall back on our routine. If you watch players under pressure, the ones who don't perform are the ones that get out of their routine," – Darren Clarke
By sticking to your pre-shot routine, you can distract yourself from all the noise going on around you and stick to the process of executing good golf shots.
Breathing:
"You've got to be able to control your breathing. Deep breathing from your stomach, not from the top of your chest. You have to try to slow everything down…walk a little slower." – Nick Faldo.
Breathing can really help you in pressure situations. To do it properly, inhale through your nose, let your belly expand, and keep your shoulders and chest relaxed as you fill your diaphragm with air. After a few correct breaths, you'll instantly feel calmer. Breathing through your nose and diaphragm—called "diaphragmatic breathing"—activates your parasympathetic nervous system, which slows your heart rate and keeps you relaxed. It also keeps you energized throughout the round because each breath provides more air than before.
Remember it's just a game:
Tom Watson had 2 wounded warrior soldiers speak to the team before tomorrow's Ryder Cup to put everything in perspective and take some of the pressure off.
"The players, I think to a 'T,' enjoyed the sobriety of the conversation; that, indeed, we are just playing a game, and that there are people out there doing work that very few other people will do in the world. That was the message." – Tom Watson
"They looked at us at one point and said, 'Listen, you guys are playing a game.' These guys are out there taking bullets and rockets, and . . . man, it was really, truly a special night in my life that I'll never forget." – Keegan Bradley
You can definitely incorporate this message in your game. Next time you're feeling pressure on the golf course, remember that you're actually lucky to be playing this great game at that moment. There are A LOT of people doing far worse things than playing a game they love. A shift in perspective like that can be all you need…
Relish the pressure – it doesn't happen often:
"You've been waiting for it for a long time, so you just need to grab hold of it and let it go, and that's what you see when I play in this format. I love what it stands for and I don't think you need to calm that down. I think you need to just grab hold of it and use every bit you get." – Ian Poulter
Turn pressure into a positive:
In the end of the day, it's just you, the golf ball and the golf course that you have to play. If the people wouldn't be there, that's it. It's pretty simple. Imagine now if you can use the thousands of people for yourself in a positive way, that they carry you, so there's nothing negative about it. But I didn't think that clear when I was there in 2010. Now it's a little bit different. You can use it to raise your game." – Martin Kaymer
Keep it relaxed and slow:
One of the most common causes of poor shots under pressure is a quicker tempo. The shot becomes about hitting the ball and not a smooth, full swing.
Make sure you check your tempo during your practice swings and replicate that during your full shot (the only swing thought I recommend).
Put yourself in more pressure situations:
The more you can play under pressure, the better you'll get at being able to handle it.
Be prepared:
"Everybody who plays top-level sport, whether it's golf or football, or whatever, needs to get into 'The Zone'… For me personally, on the morning of a round, preparation is always about getting into the zone. The less I communicate with other people, the better. I'm trying to rehearse in my mind what I am working on in my game: going through my swing keys, going through my putting keys. When I get to the course I get the pin positions for the day and I'll analyze those. I'll make a strategy for the golf course and look how I'm going to play it" – Paul McGinley
More Ryder Cup Quotes
"It was very intimidating for me. It was too much. I couldn't really handle the whole situation. I couldn't use it in a positive way. It was more distracting for my mind … I don't know how to explain it, playing in the jungle a little bit, without having a clear mind." – Martin Kaymer

"When you stand on the first tee of a Ryder Cup, it's like nothing else you ever do in this game." – Curtis Strange
"At a certain point it dawns on you, this is bigger than you. Now you're playing for your country." – Dave Stockton
"I was the first match off in 1969. Sam Snead was our Captain and I'll tell you what, I could hardly put the peg in the ground." – Raymond Floyd

"Arnold [Palmer] and I were first off in alternate shot, and he would drive on the odd-number holes. That was fine; I wanted him to hit the first shot, because that's a choking deal there! Then I chunked the approach and he asked me, 'did you have a bad lie?' I said, 'Arnold, I can't even get a breath here, I'm choking so bad.' He started laughing and said, 'welcome to the Ryder Cup!" – Dave Marr
"My hands were shaking. I expected to be nervous, but not that nervous. You don't know what the pressure of a Ryder Cup is like unless you've been in one." – David Toms

"In the end, the bottom line is, it's just us 12 against those 12 over there. And you should look at the guy you're playing and say to yourself on that first tee, 'I just don't want him to celebrate at my expense." – Paul Azinger
"I was way more nervous on the opening day of the Ryder Cup than the first round of any major. Every Ryder Cup match is like being in the last group on Sunday in a major." – Tom Lehman
"The atmosphere, it's always the same, you could cut it with a knife. As soon as you get off the first tee it's fine. It's very nerve-wracking for all the players, with no exemptions, and you want to get that moment to savor and at the same time just play and enjoy it. It's very difficult to enjoy it when you're under that much pressure, but I think that's one of the big keys of the week." – Darren Clarke
"The pressure teeing off the first day is probably as nervous as I've ever been. Coming down the stretch at the Open, I had a good feel for my game and really wasn't too concerned about the outcome. I was just trying to hit the right shots and make a few putts, which I was able to do. The first tee at my first Ryder Cup was new territory for me. It didn't take me long to settle down, but that first tee shot is pretty exciting." – Justin Leonard
"I couldn't see the golf ball. I was just so nervous, I couldn't even see it." – Padraig Harrington
"You could drop a shot between the locker room and the first tee." – David Feherty
"On the first tee with Ian Woosnam, against Lee Janzen and Jim Gallagher, I was a nervous wreck. I live only 30 minutes away from The Belfry so I know the course inside out, but when I stood on the first tee and looked up, I remember seeing a tree I'd never seen before. I thought, 'who planted that overnight?' But of course no one had and I look at it now and it's miles away. But it wasn't then. By the end [of the week] I was mentally shattered." – Peter Baker
"Anybody who doesn't feel his legs trembling must be a dead man." – Jose Maria Olazabal