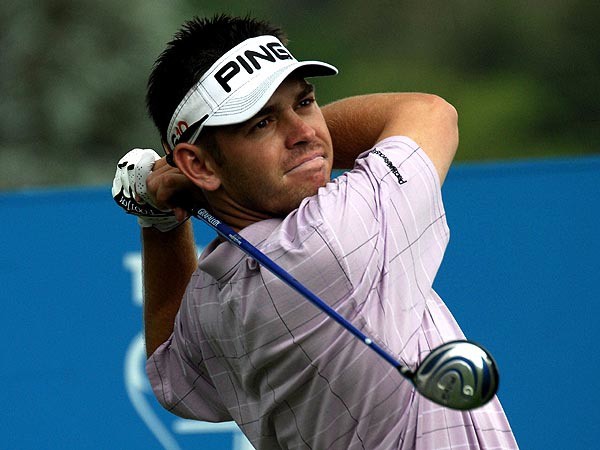 The Curious Story of the Little Red Dot
I have just spent a week in Manchester with Karl Morris, and very interesting it was too – to say the least. Karl has worked with players such as 2010 US Open Champion Graeme McDowell, 2010 Open Champion Louis Oosthuizen, Darren Clarke, David Howell, Lee Westwood, Paul McGinley, Richard Finch, Phil Archer, US Open Champion Alison Nicholas and Trish Johnson.
One of the stories that attracted the most interest in golf this year – actually its fame spread to a lot of non-golfers too – was the curious little red dot. During the last round of The Open earlier this year the TV commentators noticed a red dot on Louis Oosthuizen's glove, and speculated what it meant.
This caused some excitement in the Pro's shop at my club because they have seen me use a similar technique with clients, and thought I must have been involved somewhere. I only wish! My mate Tony – the best presenter Sky Sports News ever had (not that I'm biased) and I exchanged a lot of emails about the little red dot. We are both into Golf Mind Coaching and had a good idea what was going on. What puzzled us was the colour. Why red? We would normally only use red in very special circumstances.
Anyway, back to the story. Louis was a surprise Open contender, and widely expected to crumble on the final day. Well, as you know, he didn't, and everybody else did. We will never know how much was due to the red dot, but my guess is that it was instrumental. For the first time I can reveal the secret to the Magic Golfers, thanks to the details from Karl, and I do hope I've remembered them correctly.
Louis's objective that week was not to win The Open (no pressure!), but to follow his >pre-shot routine perfectly on every hole, and execute his technique. On almost every hole he succeeded, and guess what? The score took care of itself! Where have you heard that before? So how did Louis keep his focus? A little red dot on his glove.
Karl and Louis sat down together before the tournament, and Karl asked him to remember the best round he had played this year. That bit was easy. Then Karl asked him to describe in one word how he felt. 'Concentration'.
The next question was the bit that Tony and I couldn't work out.
'If concentration had a color, what would that color be?'
We can guess the answer. What a powerful example! As coaches we must always keep in mind that the client chooses. For sure we would never have chosen red.
This is only my guess but I think Louis chose red because this color wakes him up, and stops his concentration drifting elsewhere.
My suggestion (but your choice) is to reflect deeply on this little story. It could help you a lot, and not just in golf.
Photo by Bob Stapleton