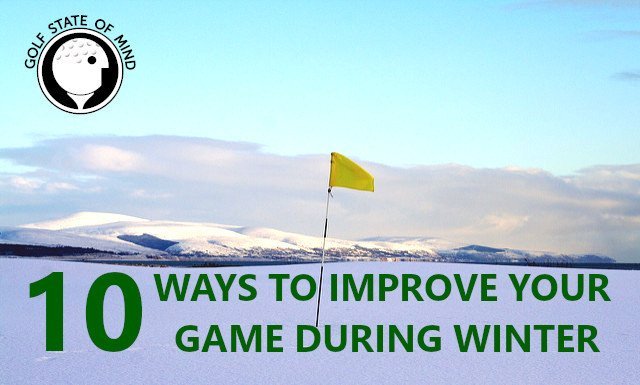 10 Ways To Improve Your Game Over The Winter Months
For those of you that are feeling colder temperatures and seeing shorter days, you're probably thinking about how you can maintain (or even improve) your game over the winter months, so that you are ready to make 2019 your best year yet. To help you with this, here are 10 exercises for your winter training for golf to make this off season as productive as possible.
1. Evaluate 2018
The end of the year is the best time to reflect and evaluate the golf season. What did you learn from 2018? What went well? Let's recall and celebrate your most successful rounds and moments. What were your strengths and weaknesses over the season? To get the clearest, most honest look at the state of your game, you have to look at your stats. The numbers don't lie. Most of my students keep stats on their game and use tools such as Golf Stat Lab or Shots To Hole, which calculate their "strokes gained" from different distances. I.e. how many strokes you are gaining or losing from different yardages on the golf course. Once you have these numbers you'll know what your priorities should be during your winter training for golf.
2. Set Goals for 2019
What do you want to achieve next year and how are you going to achieve it? What is your purpose for achieving those goals? Make sure there is no "extrinsic" motivation (to please or impress others) involved and it's all intrinsic (for yourself). Set your outcome goals (tournaments, scoring average etc) for the following season, performance goals (stats for specific areas of the game you need to improve to get you there), and process goals (what specifically you are going to do to achieve your performance goals). Think about the people that you would like to have around you in your endeavor and what their role is (friends, family, coaches etc.). Not all your goals have to be around winning tournaments and lowering scoring average – think about the person and player you would like to become next year and the mental characteristics you would like to develop more of.
3. Start a Golf specific fitness regime
Golf is a game that is quickly becoming about power, so if you don't currently have a golf specific fitness regime, you're losing out on increased distance and the longevity of being able to play the game at a high level (especially if you're over 40). Your winter training for golf should include plenty of gym time to work on your strength and conditioning, so you build club head speed and improve overall mobility and strength.
4. Improve Your Concentration During Your Winter Training For Golf
In today's fast paced "information age" and our constant connection to our mobile devices – we're constantly being distracted. Our minds are always agitated which is making us more and more stressed and it affects our ability to focus, relax and sleep. There's no coincidence that practices like mediation have become more popular, but you can hardly call it a fad since it's been practiced by many for thousands of years. Meditation would be a great addition to your winter training for golf. By practicing meditation, we can calm our minds, which gets us deeper into the present moment, meaning less mental chatter and better athletic movement. I've been doing 15-20 mins of meditation almost every day for the past 2 years and I can honestly say that it's not only helped my ability to focus and deal with stress on the golf course, but it's made me a happier person off the course too. If you need help getting started there are plenty of guided meditation apps such as Headspace and Insight.
5. Practice Mindfulness
Another word that we're hearing more often these days, is "Mindfulness". But what does it mean? Phil Jackson, former coach of the Chicago Bulls said that teaching his players mindfulness helped him win 11 NBA titles as coach. Essentially, "Mindfulness" means being more comfortable with your thoughts and feelings. You become more of an observer of what you think and feel and less of an active participant in them. You accept that you can't control your thoughts and emotions, so you don't try to resist and change them. It's the resistance that causes the frustration and tension, and ultimately, magnifies that negative thought or negative emotion you are trying to change. If you can begin to develop the habit of Mindfulness as part of your winter training for golf, by the time the spring comes around you'll be better positioned to deal with your thoughts and emotions during your rounds. I've shared some recommended books on meditation and mindfulness later in the article.
6. Make gratitude a daily habit
Studies show that an "attitude of gratitude" can have a positive affect on our mental health. Grateful people tend to be happier and more successful. As a daily exercise, write down or think about 3 things that you are grateful for and 3 things that you love about yourself.
7. Read and educate yourself
I recently updated my Ultimate Mental Game Training System (ebook and audios), which would make some good material to cover over the winter. Here are some other books that I've read recently, that will help you prepare for the new year.
The Pressure Principle br Dr. Dave Alred
Why Buddhism is True: The Science and Philosophy of Meditation and Enlightenment
Coaching With Heart (for coaches)
Mindfulness for Beginners: Reclaiming the Present Moment and Your Life
8. Attend a winter golf school
During the winter months, there are plenty of opportunities to escape the cold weather and learn from some of the best coaches in golf. Golf State of Mind has partnered with several top coaches to set up "holistic" golf schools to develop the mental and technical aspects of your game. Click here to see our upcoming dates and locations.
9. Practice with a purpose
When your practice and course time is limited, it's essential that you have a clear purpose for each of your sessions. If you only have a few hours each week to work on your game, what exactly are you going to do during that time? Think ahead so you know what your intention is for the session before you hit your first ball. After your stats review, you should be able to determine what you need to work on. My practice system, which is full of over 70 random and competitive skills drills, can help you with specific exercises and reps you can do as part of your winter training for golf.
10. Start a performance journal
Most of the students I work with make regular entries in their "performance journal", such as Coach Now. Writing is a great way to increase commitment to your goals and evaluate your performance in achieving them. Write your daily goals in your performance and hold yourself accountable to getting them done. Even better, share them with your coach to further increase accountability.
Photo by John Halsam