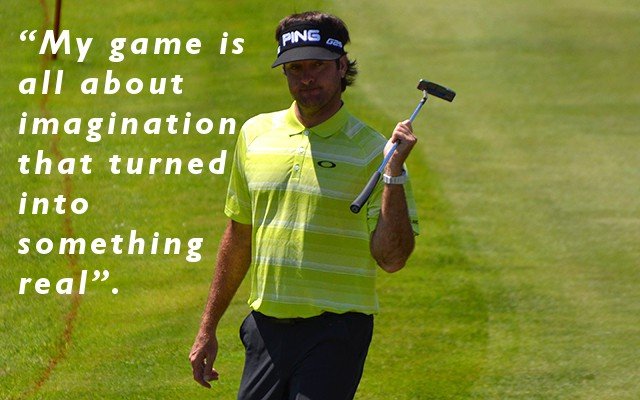 Bubba's New Mental Attitude For Success
What a finish it was in yesterday's Northern Trust Open at Riviera. Congrats to Bubba Watson for putting in a stellar final round performance to take the title for the 2nd year running.
During the last hour of a Sunday of a PGA Tour event, it's undoubtedly the mental game of golf that's the decider.
Although it might not seem like it at times, Bubba has a lot of "mental game", which makes him one of the best players in the world right now (he rose to No. 4 after yesterday's win). There's plenty we can learn from Bubba that has nothing to do with how he swings the golf club.
Bubba's Mental Game of Golf
You could argue that the only type of training that Bubba does to improve his game, is mental training. He's never had a golf lesson in his life and his game is based purely on being able to visualize and feel shots. We saw it in full effect yesterday as he moved the ball both ways at will, being able to get at the tough Sunday pin placements.
Bubba plays from his subconscious
Since Bubba has never had a golf lesson, he never thinks about a golf shot from a technical perspective. He simply picks the target, sees the shape of the shot he wants to hit, and trusts his body to hit it there. In other words, his swing is all "subconscious".
But this requires practice. Instead of hitting one ball after another at the same target during practice, most of Bubba's practice is play. He rarely hits the same shot twice. Instead he's able to put thousands of different random shot shapes into his subconscious memory, for recall in any situation. His brain has been trained (by effective random practice), to adapt quickly to any type of shot. By trust and belief in his ability, he's able to stay away from swing thoughts and keep his mind quiet, so he can access those skills via his subconscious mind.
Lee Trevino says:
"The key to playing the tour is hitting shots from the subconscious mind. If you don't believe you can do it without having to think about how you're doing it, you might manage to hit a good shot about 50 percent of the time, but never under pressure. Bubba completely trusts his ability to hit the ball–all he's thinking about is what he wants the ball to do, and with his ability, it gives him a huge arsenal. If he ever figures out how to hit straight instead of curving everything, look out. Every time he wins a tournament, he learns and just keeps getting better."
He has a Process-focused, Growth Mindset
Bubba, talked in this post-round interview (below) about his focus on his "process" and only being able to control what he can control. He said:
"It's a long process, I'm not working on swing, i'm not working on the physical part, I'm working on the mental part."
Any student of Golf State of Mind will know that having a process focus is the first place to start in improving: building a process that becomes your blue-print for success. This includes everything from your goals, your pre-round warm up, your self talk, your focus in between shots, shot routine, how you practice, post round review. If you don't have a process and you want to improve, check out my mental game books.
Staying present
Bubba has talked a lot recently about "being in the moment", something he's clearly working on.
If you've been following Golf State of Mind for any length of time, you'll know mindfulness and not getting carried away into the future or past (which can cause anxiety), is a big part of my training.
The present is an "emotionless" time. When you are present, you are not judging, you're completely aware of what's going on around you but not letting it change how you feel inside. You're focused, but very relaxed at the same time (the peak performance state).
Tedd Scott (his caddie), helps him stay present instead of letting his mind wander.
Mental Toughness
We've seen how tough a competitor Bubba is especially on Sunday afternoon (you don't win two green jackets without this quality), but staying strong and keeping the belief is something he does particularly well.
Yesterday's win proved (again) he has a winning mentality. After getting himself into trouble at the Phoenix Open, saying he was "only there because of his sponsors." he was booed and heckled by fans, which he later said gave him a tough couple of weeks and affected the way he played at Pebble Beach.
But yet a couple of weeks, he's back in the winner's circle. Undeterred by all the bad press or doubting his ability to win, Bubba stayed mentally tough and simply stuck to what he calls "his process".
He doesn't get technical
Bubba doesn't get trapped by thinking about his swing angles and positions all the time, like a lot of players do. That would interfere with the natural flow and rhythm that he has in his swing. I'm not going to undermine the technical side of the game, but game improvement needs to be balanced by non-technical practice and more attention paid to how shots look and feel. That's the only way Bubba knows how to play.
His caddie, Ted Scott, says:
"He loves to play. He is truly, in the purest sense, a golfer. He never thinks about technique, and I'd guess he plays more rounds of golf than anyone on tour by a long way. During a tournament, instead of hitting balls, he'll go play nine holes at a local course. And sometimes he'll play with just three clubs, or hit all draws, or all fades. That's his practice, hitting golf shots on a golf course."
A Better Course Strategy
Bubba's got very smart about knowing his game and picking the right targets.
After hitting less than 9 fairways in the first 2 rounds combined, (but still being in the top 3 on the leaderboard), he said:
"It's ok to miss these fairways if you miss them in the right spots and you can still have a good angle in. That's what I did."
In other words, he knows his shot pattern, assesses the good and bad miss and adjusts his target accordingly. If he does miss, it's much more likely it's on the "right" side of the target.
"I think I'm getting smarter. That's why mid-30s is when players have their biggest success, because you've made enough dumb bogeys and enough mistakes that you've made it a little bit cleaner, a little bit better, not always trying to be the hero."
Bubba learns from his mistakes
One thing I emphasize with students is the importance of a good post-round review and analysis of your stats. You have to celebrate your successes, but learn from your mistakes without dwelling on them. Use them objectively to become a stronger player. Bubba said about his win yesterday:
"I'm going to have mistakes. I'm going to have setbacks and I've got to move forward from that and that's what we've been working on…These 9 victories are because of that. Nothing has fell on my lap."
Bubba never won at college or on the web.com Tour, he had to learn how to win on the PGA Tour and a lot of that learning came from his mistakes.
Self-confidence
There are many things that indicate that Bubba has high self-confidence. Sure, being a winner on the PGA Tour helps with this, but his attitude would have played a big part in all his success. Notice the way he walks, it exudes someone who is very confident, but that will also project inwards and make him feel even more confident.
He's derives a high self-image of himself as a player through highlighting those things that are good about his game. If someone asks him about mistakes or poor performances, he's always able to turn the criticism into something positive about his game.
Areas for mental game improvement
Bubba is obviously an emotional guy. And in golf, emotions aren't necessarily a good thing. With so much at stake during every round on the The PGA Tour, it's already an emotional roller-coaster. Put a very emotional guy on an emotional roller-coaster, and it can often end it disaster. He's aware of this and said recently:
"I've got to figure out how to answer things better, all the stuff going on in my head that we've been working on in the last 11 years of PGA Tour life. I've made the right steps, but the bad stuff is going to pop out every once in awhile."
His caddie Ted Scott, says:
"He can improve a lot in the mental aspect, get better at controlling his emotions and using better strategy and being tough and being able to swing freely under pressure."
I think we can all do a better job with this.
For me, Bubba is something great in the game of golf. He might rub people up the wrong way with some of his comments, but you have to admire someone who speaks their mind instead of trying to be politically correct all the time.
And there's no denying that Bubba is a genius with a golf club and we are witness perhaps one of the best shot-makers the game has ever seen. It's definitely a far more entertaining spectator sport with him in it.
Thanks for reading this – I hope you found it useful. I'd welcome any comments or feedback.
Please take a note of Golf Tournaments Worth Planning for This Year, and if you want to travel in style be sure to check out some competitive private jet charter prices