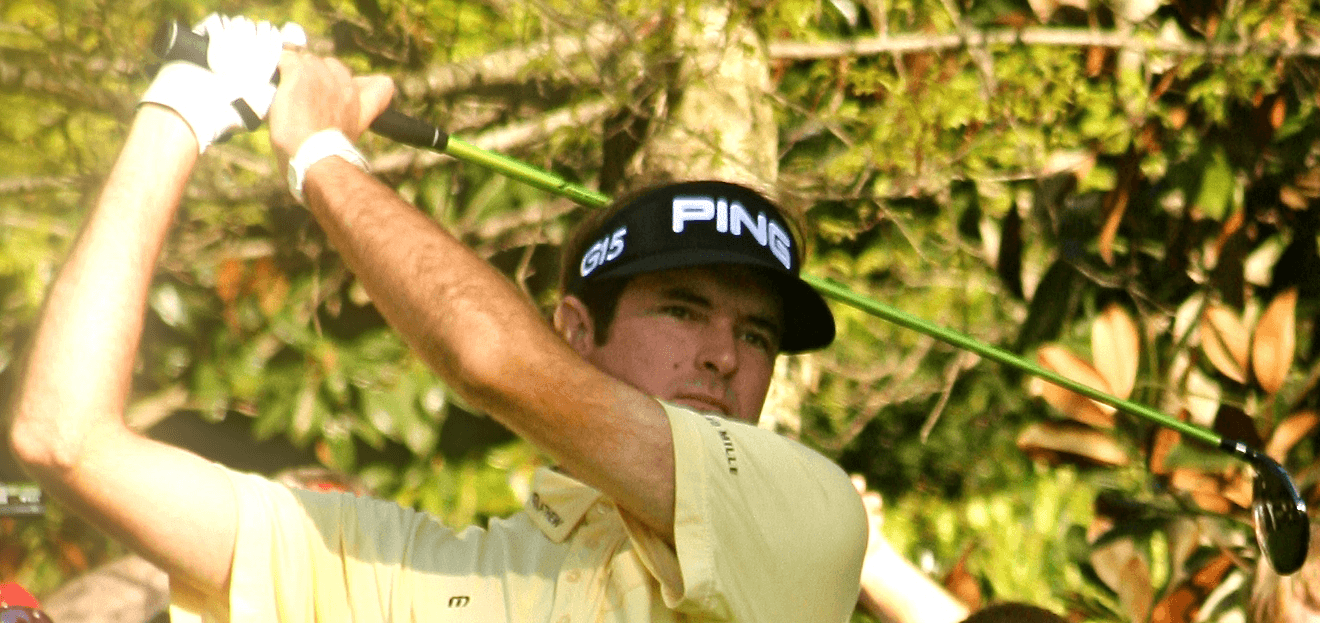 Why Bubba Watson Won The Masters (again) and What We Can Learn From His Game
To me it wasn't a surprise that Bubba Watson held on to win his second green jacket yesterday. He looked in control from the 1st tee to the 18th green and stayed aggressive with his strategy throughout.
If you read my email yesterday, I said that the winner of this year's Masters would win the mental game and that was definitely the case. Bubba was without a doubt the strongest mentally and on the final day of a major you have to be.
It might (or might not) surprise you to know that Bubba has never had a swing lesson. He plays with visualization and feel and has never thought about technique since he learned the fundamentals. He personifies everything that I think is important in playing the game to the best of your ability and here's what you can learn from his win yesterday.
[subscribelocker]
Bubba plays only with Visualization and Feel, NOT technique
As I just mentioned, Bubba has never taken a swing lesson and so he's never bogged down with technical thoughts that so many amateurs suffer from. He practices by shaping the ball, so when he's on the golf course, he sees only the target and the shape and trajectory of the shot and then relies on his body to hit it there. No shot is straight for Bubba – he can move the ball both ways (although prefers a cut off the tee). You should try this too. Instead of seeing every shot as straight, experiment with shaping the ball (when you're practicing) and this might make it easier for you to hit your target.
Bubba had a strategy and stayed aggressive
Although some of the lines he took yesterday bordered on the daring for having such a narrow lead, there's a lot to be said for his commitment to those lines. He didn't take his foot off the pedal and try to protect his lead (which can lead to silly mistakes). Instead he stuck to his game plan of seeing the best shot he could hit, and then he trusted his body to hit it there. Bubba wasn't thinking about where he didn't want to hit it, only where he did want to hit it. Notable shots were the drive on 13 where he took it way over the trees to leave a PW in, his approach shot out of the trees on 15 and his aggressive line on 16 bringing the water into play.
He's a fierce competitor and relishes pressure
There's a saying in golf that "pressure is a privilege" and Bubba definitely relishes pressure. You're never going to play your best when you're not a little nervous and out of your comfort zone. The more you can experience and put your game under pressure, the easier it becomes to handle it and the more you get pushed to play better. Always welcome being out of your comfort zone and being in competition if you want to take your game to the next level. When Bubba's in contention he finds a little extra from playing in the heat of the battle.
Bubba has a defense mechanism so he doesn't criticize himself for poor shots
I laughed as I watched Bubba's reaction to his poor approach that missed the 10th green by more than 10 yards yesterday. He looked up to trees as if to say, "where did that wind come from?" Clearly he didn't hit the ball where he wanted it to, but his immediate reaction was that it wasn't his fault. I've seen this numerous times watching Bubba in other tournaments, where he looks at his caddy as if to blame him for his error. Ted Scott (Bubba's caddy) does a great job of being an emotional punching bag! Obviously long term Bubba will accept responsibility and use his mistakes to improve, but his defense mechanism out on the course is to blame something else, which is quite common on the Tour. The key is to not criticize yourself at all on the course, so if this means blaming something else (whatever it is), try it!
Bubba walks with confidence
If you look at the way Bubba walks around the golf course, he has a swagger about him. His shoulders are back, his chest is out and his eyes are always looking up. You won't see him slumped over and looking down. Walking in this way can help your confidence, so be aware of it next time you're out there.
Bubba practices efficiently
When interviewed last night about what the difference was this year vs last year, when he unsuccessfully defended his title, he said "I got smarter and practiced more efficiently". We can all do this. Do you have a plan for your practice? Do you know enough about your game to know what your weaknesses are so you can work on them? I would recommend keeping as much information as possible about your game.
Well done Bubba. A great guy and a worthy champion. And let's not forget what an incredible performance that was from 20 year old Jordan Spieth, no doubt he has a long career with plenty of major successes ahead. I'm sure you'll all agree that it was a fantastic first major of the season. You can't beat the magic of Augusta to get inspired for a great golf season ahead. Can't wait for Pinehurst!
[/subscribelocker]
Photo by chuckyeager