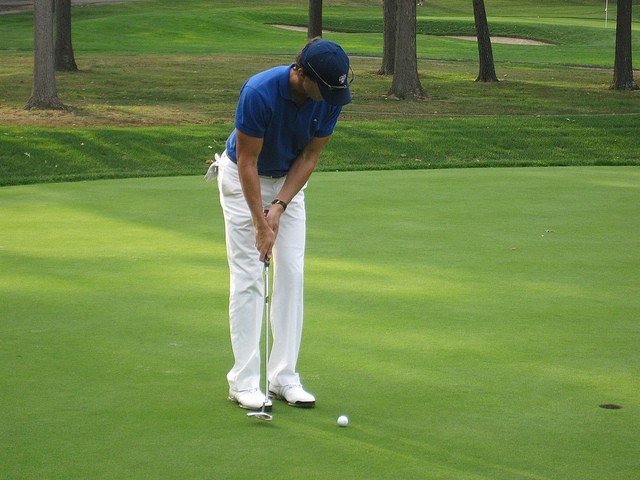 Powerful Mental Game Strategies For More Confidence Over Short Putts
Do you find yourself throwing away strokes by missing too many short putts. In this article we'll take a look at some strategies for more confidence over short putts.
Strategy #1 For More Confidence Over Short Putts
Replace your stressful thoughts with positive phrases
Why do you feel more tense over short putts?
It mostly boils down to the fact that you are putting some mental and emotional pressure on yourself to make these short putts.
This pressure usually comes in the form of a fearful thought.
Note : These may be partly unconscious before you actively try to identify them.
Some examples of typical fear generating thoughts.
I should not miss these short putts.
I don't want to look like a fool and miss such a short putt.
I need this to make par.
I hate three putting , don't miss this.
I don't want to let down my playing partner.
This is for birdie, don't waste this great opportunity.
The biggest reason for your tension is all these pesky little thoughts and fears in your head.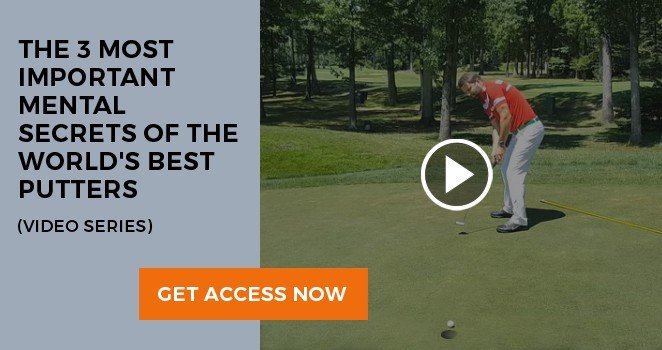 Here is a simple way to manage your tension creating thoughts…
Make a list of your top 5 tension creating thoughts over short putts
Now create another list of 5 counter thoughts or rebuttals
These positive replacement thoughts will act to effectively counter the negative thoughts. Reducing your inner tension.
Here are a few examples so you can get the general idea of how it works:
Tension creating thought:
"I should not miss short putts."
Positive replacement thought:
"Not even the best putters in the world make all their putts. I will just relax and do my best to prepare myself well for this putt."
Tension creating thought:
"My partners will think I am a choker?"
Positive replacement thought:
"The other players don't care about my game. I am choosing to focus on my line."
Tension creating thought:
"This is for birdie, don't mess it up."
Positive replacement thought:
"It's just another putt and I will focus on what will help me putt to my best ability. Focus on my target and trust my stroke."
Now its your turn to create some positive thoughts of your own that match your particular stress creating thoughts.
You are preparing yourself for the next time your feel tense over a short putt. You will have some simple "go-to" phrases to use that can really help you relax and stay with the task at hand. Sinking your putt…
Write them out on a postcard and read them before your next two rounds of golf.
Strategy #2 For More Confidence Over Short Putts
Understand what you can and can't control.
You do control what you do up to playing your shot
You don't control what happens once the ball has been hit.
You do control how you decide to react to the outcome.
You actually don't have any control of what happens once you have hit your putt. Many outside factors can make your best putt miss. Grain of the grass, wind, unseen bumps and pitch marks lumpy doughnut around the green etc.
What if you decided to let go of the idea that you SHOULD be able to make all your short putts?
The reality is that you WON'T and neither do the best players in the world.
Let it be ok if you miss in competition. The fear of missing causes the tension which makes you miss more. Pre accept that you will be ok if you miss. This is a trick of the mind.  Absolutely intend and feel as though you will make each putt in your pre putt routineand putting stroke. But at the same time pre-accept and understand that it may miss because you don't fully control the outcome. Use these simple mental game techniques and you'll quickly gain more confidence over your short putts.
Photo by Tim Evanson