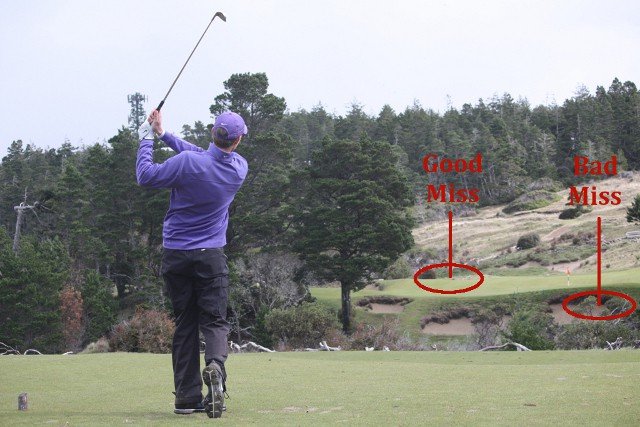 Course Strategy: How Good Is Your Shot Selection?
Golf strategy is something we can all do better at whatever level of player we are. Whenever I give a player lesson, I invariably see players lose several shots per round by simply picking the wrong target and the wrong shot. The good news here, is that these lost shots can easily be saved by having a smarter golf strategy. And as with most of my coaching on the mental game, it doesn't require any physical skill to fix, just a change in your mental approach.
On a higher level, this comes down to not making the pre-shot routine as detailed as it needs to be. And when I say detailed, I'm not saying that you should take 5 minutes to play each shot. All the steps of a good pre-shot routine should take no longer than the 30 seconds each player is allowed to play each shot.
Make golf strategy part of your pre shot routine
During the analysis phase of the pre shot routine, a player should clearly identify a target. But more often than not, this target becomes the center of the fairway or the flag on the green. This is not the way the top players pick their target. As Ben Hogan once said, he only hit 3-4 shots per round exactly as he intended – the rest were good misses. Golf is about how good your misses are. Watch the PGA Tour at the weekend and something you'll notice is when they do miss the target (which for approach shots is about 1 in 3 according to the Greens In Regulation stats), they miss it on the correct side, so it gives them the best chance for an up and down. The same applies to tee shots – where invariably, one side of the fairway will be the "better miss".
You might be thinking "well isn't it a negative thought to think about missing the target"? No it isn't. What you're doing here is playing the percentages. If the best players in the world miss their target 33% of the time over the course of a whole season, you can bet with certainty that you will too. So during your analysis phase of the routine, you're going to allow for that 1 in 3 shots, that will miss the target so if it does occur you'll miss it in a spot that will still give you an opportunity of par or better. This is called a "Conservative Aggressive Golf Strategy" that most of the top players use. They swing aggressively at conservative targets.
Where is "the good miss"?
So, firstly you'll identify your optimal target and then you'll find "the good miss" and make your new target somewhere between them. The distance your new target will be from the optimal target will depend on how you're feeling that day. By this, I mean some days you'll be playing better than others and you'll have a better chance of getting closer to your optimal target. I like to use the analogy of "Red, Amber and Green". If you're having a green day, where you're playing really well, your conservative target, won't be as far from the optimal target as it would be on a "Red" day, where you're not playing great.
Let me give you an example:
Let's say you have water short left of the green and the pin is cut on the left side about 10 yards from the front. Clearly aiming at the pin is a low percentage shot and could easily result in a double bogey or worse. Missing anywhere left is a bad – you'll either be in the water or short-sided with very little green to work with.
The good miss here is obviously long right. Being right you avoid the water and by being long you open up the green for your next shot (i.e. you have plenty of green between you and the pin).
So the correct target for this shot would be halfway between your good miss (long-right) and the pin. This will mean you need to take a little extra club and aim 10-15 yards to the right of the pin.
Make sure this kind of thinking if a part of your golf strategy. Judging from a lot of the amateur players I talk to, it's a missing piece and will save several shots per round.