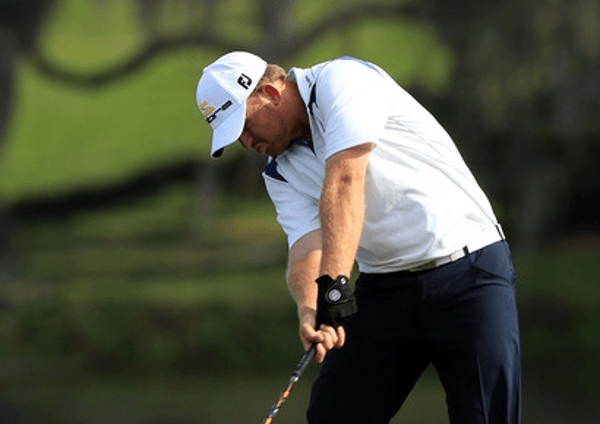 JB Holmes' Mental Game Techniques
JB Holmes' win on Sunday was quite extraordinary. Overcoming a 6 shot deficit with a 64 (he was an incredible 7 under through 8 holes) his final round spoke volumes about the strength of his mental game and his character.
We've known from the start that JB was a massive talent (the quickest player on Tour to reach $1mn in earnings) but the extent of his mental toughness is really coming to light this season.
A little over a year ago JB Holmes was ranked over 509th in the world. A brain surgery that threatened his career and injuries to his ankle and elbow, took him out of contention for several years. But now he's back in the Winner's Circle.
So how did he turn it all around?
JB credits his sharp improvement over the past year to hard work on his mental game.
1. Focus on shot routine
JB's disappearance from the leaderboard must have created a lot of frustration, impatience and focus on results. He was focusing too much on what was out of his control. When you do this in golf, you put too much pressure on the outcome of every shot. If you're only happy when you're hitting the ball well, you're setting yourself up for a rocky ride. Conversely, if you make routine the goal and the measure of success for every round, you make the game a lot easier.
JB Holmes said: "Just focus one shot at a time. I know you say that, but really it's that simple and that difficult. Focus on the things I can control. I can go out every day and have fun. I can do my routines properly, and I can try to stay present the best I can. And those are my three goals every day. Whatever the score is, the score is. But if I do those three things, I consider it a successful day."
2. Staying in the present
During the play-off I noticed JB closing his eyes and breathing deeply. His caddie also said: "We weren't really trying to do anything differently, we were just breathing well, staying present in the moment". Being in the present is another key to playing your best. If you're thinking about what might happen in the future and what has happened in the past, once again, you're focusing on those things that are out of your control. The result is an increase in tension from the focus on the uncertainty and a loss of focus on the present moment. The best way to stay in the present is to focus on your breath, which clearly JB was doing during the final round. Breathing properly is also one of the best ways to stay calm when the pressure is on.
3. Visualization for golf
If you got to see any of the final round, you would have seen JB closing is eyes for a few seconds before every shot. Here he was visualizing exactly what he wanted to happen. Visualization is a very powerful tool in golf. It gets you committed and can stimulate the muscles needed to execute the shot required.
4. Having fun
With the struggles that JB has overcome over the past few years, he's extremely grateful for each and every moment he gets to play the game. Whatever the result, if you're on the golf course, you're winning. Be thankful for whatever the game has in store for you that day and it'll help you play better under pressure.