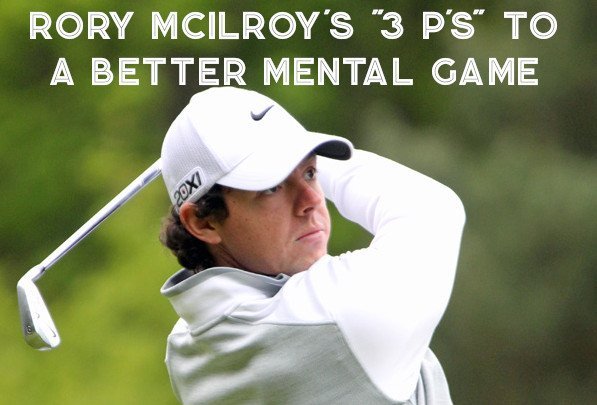 Rory McIlroy's 3 P's To Improving His Mental Game
There's no doubt that Rory has had a great career so far, by anyone's standards. 4 majors and 33 professional wins (including 18 wins on the PGA Tour) is something that only a handle of players are capable of doing.
From early on in Rory's career it was clear that he was going to become one of the best players in the world. Afterall, you can't get a much more technically-perfect golf swing. But after quickly getting to 4 majors by the age of 25, Rory experienced a bit of a slow down in victories. For a player of such unbelievable talent, the pressure of such high expectations, was clearly affecting his performance.
But this year we've seen a different Rory McIlroy. Although he wasn't able to add another major to the trophy cabinet, it was a hugely successful season. So what has helped Rory turn things around?
"I'm almost making more time to practice my mind‑set rather than to be on the range."
Things started to change for Rory after a brief putting lesson from Brad Faxon last year. Brad showed him how to putt with more artistry and freedom and let go of control/technical thoughts and focus on the outcome. This was the start of an improvement in his putting performance (he went from 97th Strokes Gained Putting in 2018 to 24th in 2019 with the help of Brad and Phil Kenyon), and an overall change in his mental outlook. Rory began to he realize that his limitations were more perhaps more mental than physical.
Since then, Rory's been exploring ways to improve his mind-set and mental game – the goal being freedom from what's holding him back the most – the pressure he feels to live into what he (and others) expect from his talent.
I'm sure you've felt the same – you know how well you can play and what result you should expect to get, and if it doesn't happen, it can be very frustrating and negatively affect your mood and your performance. We've seen this with Rory many times.
But Rory has worked hard on cancelling out the noise and inhibitions that come from being too results oriented and it showed last Sunday when he lifted the FedEx Cup trophy for the 2nd time (joining Tiger as the only other player with multiple titles). Rory talks quite candidly about what he works on to improve his mind-set and mental game and he simplifies it with his "Three P's".
Perspective
Good scores will come when you don't expect to get them. Rory has a new perspective and measure of success for his rounds, which creates more freedom in his play. He still wants to win every tournament he plays in, but there's more self-compassion and a better way to judge his performances. By creating mini (or "process" goals), he has something to focus on in the present moment, instead of the measure of success being winning or losing. If he's able to achieve his mini goals (I'm sure a lot of these are mental goals), he gives himself the best chance of a good outcome and it's that simple. So no matter what the result at the end he can he happy with himself (in the past he was only happy if he won).
He knows that in the past he "pushed too hard" to get the win (especially in majors) instead of being process focused, present and patient. When he does this, he lets the good play happen.
He also has a new perspective on how he treats each tournament. Instead of building up the pressure on himself to play well at the "bigger" tournaments, he tries to treat every tournament the same. He said before this years Masters:
"Honestly, I try to treat every tournament the same. It's 72 holes, 18 holes a day. It is no different than any other golf tournament we've played. This is a life-long journey of trying to improve and learn and master my craft, it's not about how I play in one tournament."
Try this yourself – find a new measure of success for your rounds that doesn't include the end result, and treat every round with the same level of preparation and focus.
Persistence
"You have to persist. Persist, persist, persist, until it turns around for you." – Rory McIlroy
The great players in this game are generally very optimistic people – they expect things to turn around if it's not going well. How well can you keep playing regardless of your score or whether you will win or lose? Having persistence and "staying in the fight," right until that last putt goes in on the 18th green is a skill in itself and every round you play you have an opportunity to master it. This is a "success factor" that I will have my students measure the success of their rounds by (as part of their Mental Game Scorecard).
Rory showed this characteristic at The Open this year, where he kept fighting for every shot in the second round and scored 14 shots better than round one and narrowly missed the cut.
Persistence is also about how you deal with setbacks – do they dent your confidence or do you see them as opportunities for growth?
Poise
Rory's new mental approach includes working on being more composed and ruthless, like his counter-part Brooks Koepka. Rory said after his win at the Tour Championship last Sunday that he wants to be "more like Brooks" and he tried to emulate his intensity and focus for all 4 days, not just Sunday.
This is a great compliment to Brooks Koepka definitely who has a cold, ruthless look about him even under the highest pressure. It's not a coincidence that Rory's reading list includes books such as The Obstacle is the Way" and "Ego is the enemy", both inspired by the Greek school of Stoicism which teaches the challenges should be faced with more composure and less emotion.
Rory says gets himself into his winner's mindset with a pre-round routine including meditation for 20 minutes and visualization exercises. I'm guessing that he visualizes himself as the player he wants to be out on the course, playing with confidence while being able to deal with anything that's thrown at him, which is exactly what he did on Sunday.