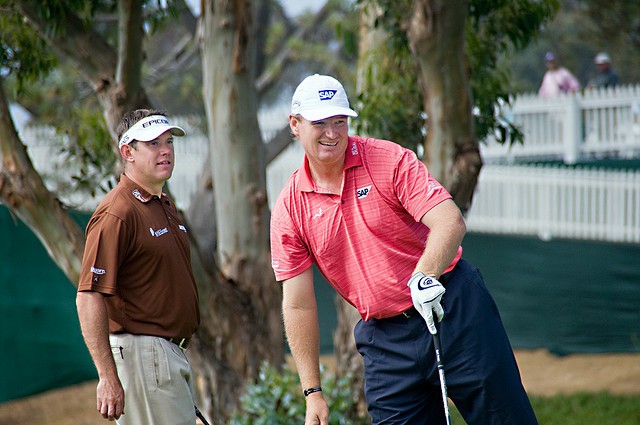 Knock 3 Shots Off Per Round by Simply Using Your Eyes
As golfers, we all seem to be looking for that magical swing change that will transform our game and take us to glorious new scoring levels. But how much do we really utilize what is completely natural to us? In golf, our eyes are probably our most important asset. The studies and that I'm about to share with you prove that golfers with only novice ability can rapidly improve scores by learning how to use the eyes in putting.
"In golf, our eyes are probably our most important asset." – Nick Faldo
It was a real surprise that Ernie Els won The Open in 2014. He was struggling with his game and before the tournament he wouldn't have been mentioned on anyone's short-list of potential winners. It was surprising further still (and very interesting) when in his acceptance speech he attributed his win to "eye exercises" he'd been working on with visual skills coach Sherylle Calder. Having such confidence in these techniques, Els now employs her full-time and makes sharpening the use of the eyes in putting part of his training regimen. Calder's visual training program includes software that works on his reaction times and visual sharpness. One such exercise is where different sports balls and shapes come across the screen and you have to hit them with the cursor and remember a number that appears shortly after. Ernie now swears by practicing such techniques. ThinQ Golf, has similar games (you can use discount code GSOM10 and get $10 off their brain training games).
How To Use The Eyes In Putting
"Quiet Eye" training fro golf is another way technique for making better use of the eyes in putting, that has proven to be successful for improving performance. After using this training with a sample group of golfers, they sunk 16% more of their putts and reduced their average number of putts by 3 per round.
The technique was discovered by Joan Vickers of the University of Calgary. She found that elite players (or athletes in general) have a more intense gaze on the ball and then the path the ball takes to the target.
The first step is to remind players to briefly focus on the EXACT spot where they wish to send the ball, and then settle their eyes back on the ball and hold them there. Such intense focus on the ball blocks out negative interference from mental chatter and "allows the brain to process the aiming information and direct the body in the proper motions to get the ball where you wish to go."
Dr. Mark Wilson a lecturer in human movement science, conducted a study using Quiet Eye with 2 groups of golfers. One practiced on different aspects of their putting stroke and the other group focused on the visualization technique (not on the stroke at all) and the results were convincing. Those who worked on visualization were more accurate than those who focused on their stroke. Interestingly still, the group who were "visualizing" had lower heart rates and less muscle twitching, showing less "performance anxiety".
In putting, the quality of the ball strike is something that gets better with better players. They simply keep their eyes focused longer on the back of the ball.
Have you downloaded a FREE copy of my Mental Game Starter Guide yet? If not, please do so by clicking here
Dr. Wilson says he encourages his students to "keep their gaze on the back of the ball, which is the contact point for the putter, for a brief period before starting the putting action" long enough to say "back of the cup" to themselves. Immediately after each putt (before they see where the ball went), the students then have grade themselves out of 10 on the quality of the strike, so this starts to become the goal. If you can consistently hit the ball out the center of the putter, you will putt more consistently. Watch the world's best players and you'll notice them switching rapidly between looks at the ball and the target, then fixating on the ball for 2-3 seconds, then remain in the same position for 1-2 seconds after it. Try it.
With putting accounting for around 35% of the average golfers shots, this can be a huge way to shave strokes off your handicap and putt better under pressure. Testament to this – the same 2 groups of golfers were then put in a high pressure environment, competing for a prize. Those who had been learning the visualization techniques sunk 16% more putts than the group that had not. They had a lower heart rate and struck the ball more purely to their target. Proof that simple visualization techniques for golf can help you perform better under pressure!
Photo by SD Dirk