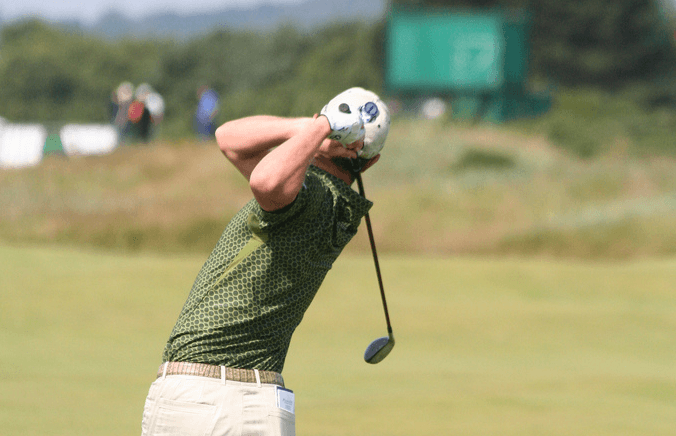 More accurate wedges and your optimal mental state for golf
What an amazing Open Championship that was!
It had everything. Delays from severe wind and rain, 3 amateurs tied 12th or better, the drama of Jordan being a shot or two away from 3 majors in a row, the legend Tom Watson retiring, and then to top it all off, a 3 man play off on a Monday evening.
The lessons learned from The Open Championship
The Open is my favorite major championship. For me it really separates the golfer with the best all round game better than any other major.
I was fortunate to attend the University in St. Andrews and spent 4 amazing years there. I played the Old Course probably over 100 times and it was the inspiration for what I do for a living. The real magic of the Old Course is that you never play the same course twice. The rolling fairways and subtle undulations on the greens, combined with the ever-changing wind direction means you're always faced with different shots and challenges.
All areas of your game need to be sharp to contend at The Open, but here's what I picked out as the things that the amateur can learn the most from.
Trajectory control = Distance control = Closer proximity to the hole = More birdies!!!
" Hit your short irons and wedges low, everything else high." – Ben Hogan
This is not just a requirement for links golf. All the players that finished at the top of the leaderboard at The Open are fantastic wedge players. To be a great wedge player, you have to be able to keep the ball down. It's hard to see this on TV but if you ever get the chance to go and watch a professional tournament, pay attention to this: Tour players have a low boring trajectory with their wedges to keep it out of the wind and control distance.
There's no way you can consistently hit it close if you hit it up into the stratosphere. I see this mistake all the time with weekend golfers, who grab the pitching wedge and hit it flat out at 100%. Look at a Tour player and they're hitting at no more than 75% of their maximum swing speed, maintaining a nice smooth tempo and hitting it LOW.
Tour players practice these shots a lot on the range. Next time you're practicing, don't just make hitting it straight the goal, work on your trajectory control, especially with your wedges.
Staying calm and patient
Both Louis Oosthuizen and Zach Johnson said they had very calm minds throughout the tournament. While some players were getting upset with the conditions and delays, Zach and Louis (especially Louis), were able to stay completely present and calm.
What is your mental state when you're playing your best golf?
Most players claim to be completely calm when they play their best golf, they're able to stay present and not get carried away by thinking into the future (or past), about "what if…" Other players, like Jordan Spieth, seem to get fired up by looking at leaderboards and want to know how many birdies they need to make to win.
Neither mind-set is better than the other, but it's important to recognize your state of mind when you're playing your best and attempt to replicate that. This is the sort of thing you'll discover in the Golf State of Mind Training Program. We'll start with a mental game assessment to determine your optimal mind-set for confidence and give you the tools to consistently adopt that state of mind. You'll have a blue-print to follow for every round.
For more information or to pick up your copy today, please visit https://golfstateofmind.com/ultimate-mental-game-training-program-2016/
Photo by Steven Newton