Your 10 Minute Confidence Boosting Putting Warm-up
A consistent putting warm-up
Golf is a game of confidence. How you approach each round mentally and physically can make a big difference in how confident you feel. One of the things to make consistent is your warm up. The elite players I work with have a very consistent putting warm up, right down to the number of putts they make before each round.
From my experience, the quality of the shots you hit during your warm up has no relationship with your score for the round. Some players feel like they didn't hit it great during the warm up but shoot in the 60s and vice versa. It's important that you're not judging how good your game is by how well you're playing before a round. This is why I recommend the following putting warm-up routine: You get to warm-up your visualization and feel, without missing a single putt. It's not going to help your confidence if you're warming up your putting and seeing the ball fly past the hole or come up short and you especially don't want to experience a 3-putt before walking to the first tee.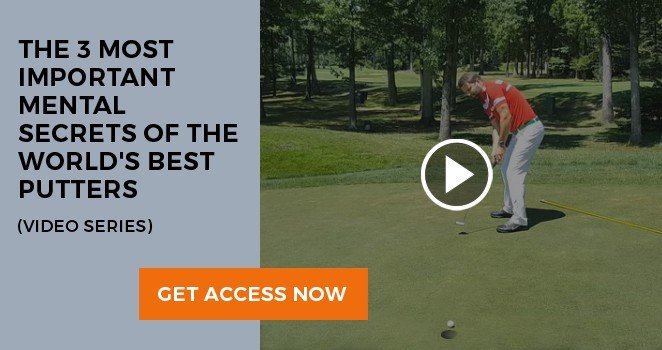 Warm up your feel
Putt to the fringe of the putting green from 20, 30 and 40 ft (3 balls from each distance)
What this does is warm-up your distance control without you judging how good your direction is.
Narrow your focus
Putt to a tee 5-10-15-20 feet away (3 balls from each distance)
Putting to tees does a couple of things. Firstly, the target is so small that if you get the ball around it, it will feel like a good putt. Secondly, you're narrowing your focus and shaping your perception by aiming at such a small target. I.e. the hole will feel bigger on the course.
The sound and sight of success
Hole 10 putts from 2 feet away
This is important because these are putts you can't miss and you will see the ball repeatedly going in the hole. Pay attention to the sight and sound of it going in.
By following this routine, you will have warmed up everything you need to without missing a single putt. This will eliminate doubt and improve more confidence as you head to the first tee.
Play well out there!
Photo by Neville Wootton