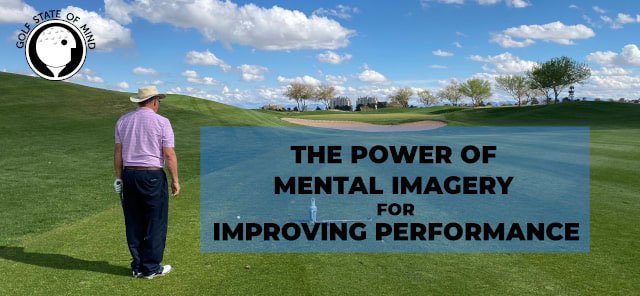 5 Ways To Use Mental Imagery To Improve Performance
This week, we're going to look at the power of Mental Imagery for golf, which is supported by scientific evidence to:
Increase confidence and reduce doubt
Change your mental and emotional state
Improve motor skill learning (i.e. making swing changes)
Change behavior
Improve motivation
Help you prepare for any situation
Let's take a look at 5 simple exercises you can do to improve performance using mental imagery.
You can do these visualizations at any time, but I prefer doing them after my morning meditation session after quieting the mind.
Step 1: Visualize your success
Research shows that people with goals generally go on to become more successful than those who don't. Creating mental images of those goals being achieved is proven to be more powerful that verbal statements of your goals for the following reasons:
Whether it's a long or short-term goal (visualizing the day ahead or yourself 5 years from now), seeing yourself be successful creates a positive association with that goal in your subconscious mind (that part of the mind which triggers your feelings), so when you are in those situations for real, you're more likely to feel more confidence and less fear. Tony Robbins says that mental imagery for goals is an important daily exercise as you get to experience the emotions of achieving that goal before it's happened.
When you visualize the outcome that you are working towards, you can get deeper into why you are on that path and what about the endeavor will fulfill you. Goals will only be achieved with motivation, and that will be lacking without a clear purpose.
Step 2: What are the obstacles and skills you must develop to achieve your goals and what behaviors do you need to change?
It's not enough to visualize the positive outcome at the end of your journey. Research suggests that doing that alone can reduce motivation as your mind starts to believe that you have already achieved it. Any goal worth working towards is going to require change in behaviors and overcoming many obstacles over a period of time. The next step of your mental imagery for golf practice is to take a look at those things that are currently holding you back and visualizing how you are going to change and overcome them.
Step 3: Using Mental Imagery to "Front-load" your thinking patterns and behaviors
A great way to use mental imagery to work on your mental skills is to create situations in your mind (positive and negative) and figure out how you will deal with them. This will give you greater certainty and less uncertainty about a performance as you will have a plan for anything that comes up.
One of things that is so great about the game of golf is that we never know what to expect – You could face any number of different situations which will require you to respond and not react if you are to be successful. How will you think and behave if you double bogey the first hole? How will you think and behave if you are -3 after 9 holes?
By experiencing all these possible situations (in your mind) before they've happened will prepare you for them and if/when they occur, you'll know exactly what to do. Imagining situations that might be an obstacle is not a negative (provided you see yourself finding good solutions and succeeding.
Write down 5 things that could go well, but if you don't respond appropriately, could become a negative e.g. being 3 under after 9 holes, needing to par the last 3 holes to beat your best score or leading a tournament with 9 holes to play.
Write down 5 things that could go wrong in a round and how you will respond to them. What processes and mental game tools can you use in those situations to maintain a good mental and emotional state? E.g. hitting the ball out of bounds or playing with slow players.
Step 4: Using mental imagery for golf to change your emotional state
Research shows that mental imagery is more powerful than verbal language in triggering an emotional response. Taking yourself back to happy memories in your mind can make you feel happy. The opposite would be the case for traumatic events. Being aware of your mental and emotional state and being able to control it plays an essential role in high performance. Mental imagery for golf is one of those tools you can use to keep you in your "optimal performance state" throughout a round.
Step 5: Using mental imagery to improve motor skills
Research shows that when an athlete visualizes a movement in their mind, it stimulates the same neurological processes that would occur when they make that movement for real. Not only can visualization of a movement be effective as a rehearsal before playing a shot (in the pre shot routine), but when combined with physical practice it can help increase the rate of learning of new motor skills. In other words, if you are making a swing change you can accelerate the adoption of those changes by visualizing them in your mind.
Give these 5 exercises a try while you are spending more time off the golf course and then make them part of your mental game training program once the season begins.