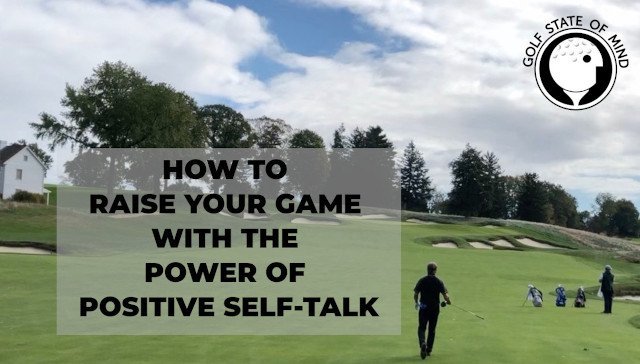 How To Raise Your Game With The Power of Positive Self Talk
Click "listen in browser" to listen to the audio
What you say to yourself drives your performance on and off the course more than you would think. Positive self-talk is a force that we must harness to keep getting better.
Do you remember the interview with Brooks Koepka before the PGA Championship last year (which he won) where he told the world that he was a "big tournament player" and that he found them easier to win than regular tournaments because most of the field couldn't handle the pressure?
Some might have thought that it was an arrogant and overconfident thing to say. Saying things like that can often blow up in your face and make you look silly. But from a sports psychologist's perspective, it's clear that he's been making these statements to himself over and over again, which has made it his belief and identity as a player and helped him win an incredible 4 majors in 2 years.
Self talk can not only influence how you think, feel and behave in a particular moment, but it can change your beliefs and behaviors in the long-run. The best performers in any field are able to use the voice in their head to become more successful everyday.
Why does self-talk work?
On a basic level, it's fairly obvious. It is always going to be better to talk to yourself in a positive way than a negative way. Telling yourself how bad you are at something or how likely it is that you will fail is always going to work against you. I'm sure that when anyone tells you how well you are doing at something it feels good and gives you a lift, so it's only logical to do the same with your self-talk.
To understand why positive self talk for golf works, we need to understand more about how the mind works.
The subconscious mind – where your memories are stored, triggers your emotions, feelings and behaviors in different situations. The subconscious can also be thought of as your "belief system" (what you believe you are capable of) – a big factor in how motivated you are to improve and how you perform in the big moments.
Changing Self-belief with Self-talk
The subconscious mind is always trying to predict danger or safety based on the memories of your past. It can either hold you back (in the form of fear and self-doubt) or give you a green light to access what you have and keep getting better. But it is not only taking in everything you experience, it's also listening to what you tell it. For this reason, mental techniques such as self-talk and visualization can "program" your subconscious to change what you think and what you believe.
The stories you tell yourself everyday are shaping your future. With better self-talk, you can shape a better future.
Self-talk can turn your thoughts into beliefs
Self talk and thoughts are not the same thing. You don't have control over what thoughts appear in your mind, but you can choose your self-talk.
Even though we don't have control over thoughts appearing, with more mindfulness we have the ability to choose which of those thoughts we turn into feelings, emotions and behaviors. We also need to be aware of turning thoughts into self-talk. When you verbalize thoughts and feelings (either in your mind or out-loud), they become part of who you are.
One of the goals of my mental coaching programs, is to help players develop more self-control through awareness of their thoughts, and learning how to talk to themselves in a way that will maximize performance and self-belief.
Self-talk is a Powerful Guide in the Moment
"The quality of your life is a direct reflection of the quality of the questions you are asking yourself" – Tony Robbins
Self-talk in the form of quality questions, can give you quality answers which can bring your attention to the best thing to do and guide you in the right direction. Here are some examples:
"What does a good shot look like here?" (In the pre shot routine)
"What can I do next to give myself the best chance of a good outcome?" (At any moment in a round)
"How would a champion golfer deal with this situation?" (After a set-back)
"What's Important Now?" (At any moment in a round)
When To Use Different Types of Self talk
In most other sports, the coach is there at the side of the field or court (and during breaks), helping the athletes navigate a performance with tactical instruction, motivation or compassion, depending on what's needed.
In golf, a coach isn't allowed to talk to a player. Instead, the player needs to coach themselves with positive self talk for golf. Here are some examples:
If you can feel your confidence dipping, you might want to hear something motivational.
If you feel your energy levels dropping, you might want to say something which raises your intensity.
You might have some instructional self-talk which reminds you of what you need to consider during your pre shot routine.
After a bad shot, you might need some compassionate self-talk, so you don't react.

Choosing positive self talk for golf
When you start putting together your self-talk scripts, it's important that you think about what you would want to hear in specific situation on the golf course.
Different words can trigger different emotions for different people. Imagine yourself there in situations where positive self talk for golf will help you and think about exactly you would want to hear.
Positive Affirmations or Mantras
Every morning (or at any time) you can motivate yourself and change limiting beliefs using positive affirmations. I make positive affirmations part of my daily routine, right after my morning meditation.
Think of things that you know are great about you, that you should remind yourself of daily, and behaviors that you will need to change to achieve your goals.
Here are some examples:
I thrive under pressure
I am focused on my routine and the shot in front of me whenever I play
I accept that the best way to improve my future is giving my full attention to the present moment
I am an artist around the green. I create shots in my mind and execute them
I play with intensity, strength and confidence
I am grateful for every opportunity that I get to play golf
I learn from every round no matter what the outcome
I am a big tournament player
I am strong, confident and powerful
Every day I work on the things that will make me a better player
Write your positive affirmations down and repeat them out-loud, with conviction.
Thanks for reading. Before your next round, prepare your self talk scripts and notice how well it can help keep you in a positive mindset and focused on what will help you get the best out of your game.
If you'd like to learn more about my mental game training programs which have been successful in helping improve the performance of all my clients from Tour players to weekend golfers, please check them below.