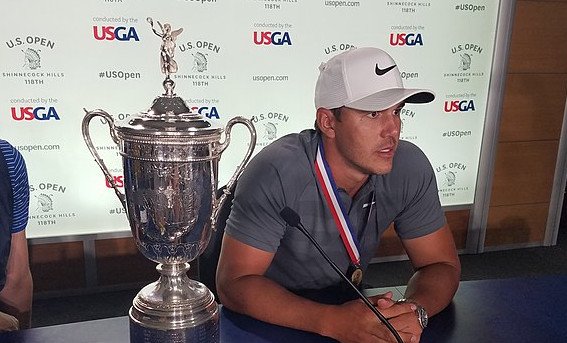 The 7 Keys To Brooks Koepka's Mental Game
Brooks Koepka's victory at the US PGA Championship in 2019 capped off one of the best mental performances at a major championship. To lead a major from start to finish (even with the wobble at the end) is a feat requiring mental toughness in abundance and that's exactly what Brooks Koepka has.
For the 4th time in 8 major championship starts, Brooks Koepka finished on top and showed us why his mental game is way ahead of most of the field.
But what exactly makes Brooks Koepka's mental game so strong? In this article, I'd like to take a look at some of the "major" attributes of Brooks Koepka's mental game that give him a head-start on most of the field in major championships – and how you can work on them to help you achieve your goals this season.
1. He Believes He Can Win
Brooks has always had a lot of confidence in himself (even without the results). He believes he can win every tournament he plays in. Before he even hit a ball at the US PGA Championship, he boldly said (source golfchannel.com):
"There's 156 [players] in the field, so you figure at least 80 of them I'm just going to beat," Koepka said. "You figure about half of them won't play well from there, so you're down to about maybe 35. And then from 35, some of them just – pressure is going to get to them. It only leaves you with a few more, and you've just got to beat those guys."
To say something like this before a major requires a ton of confidence, and then to back it up with the win, well…enough said.
Key takeaway: The more you can tell yourself of what you WILL achieve, the more you make it a self-fulfilling prophecy. In your next tournament, see yourself succeeding (at whatever you view as success) and tell yourself of what you are capable of. If you can't see it happening or say it to yourself before you hit your first tee shot, it probably won't happen.
2. Brooks Has No Expectations For Each Round
Before each round, Brooks doesn't set any expectations for his score or the end result. He knows from experience what usually happens when he does. When asked what he's thinking before rounds, he said: "Well I won't be thinking about winning, I'll just be focusing on playing, hitting each shot, one at a time. When you think about winning, that's when you get nervous".
Key takeaway: Expectations serve no purpose in golf, they only add pressure. It's one thing to believe you can win, but it another to think about that end result when you are playing. One of the great things about this game is that you never know what's going to happen and you have to embrace that as something positive. All you can do is stay in your process (certainty) for each individual shot, and have that as the only expectation, instead of an outcome out there in the future (uncertainty).
3. Brooks Stays In The Present
Another key to Brooks Koepka's mental game is being able to stay in the present moment. He says (source inc.com):
"I just stay in the moment…I never think one hole ahead. I'm not thinking about tomorrow. I'm not thinking about the next shot. I'm just thinking about what I've got to do right then and there." It's "very simple."
His coach, Claude Harmon III, says you'd be surprised about what he and his caddie Ricky Elliot talk about in between shots, as most of the time it has nothing to do with golf. Instead they use the time in between shots to relax and and lighten the intensity that comes with playing in a major or on the PGA Tour. They're in the present moment, not worrying about what might happen next.
Key takeaway: When you're in the present moment, you're a lot calmer as there's no fear of what might happen next (future), and frustration from mistakes (past). There's less emotional ups and downs. But keeping yourself there isn't easy and requires practice. Instead of letting your mind wander to every thought that pops into your head, try to get into "sensing mode" by paying attention to what you see, hear and feel. See how long you can do it for. Either that or just chat to your playing partners about something light. Use the time in between shots to conserve valuable mental energy for your shot routines.

4. Brooks has Strong, Confident Body Language
Brooks Koepka's mental game is helped by his strong body language. He acts confident, which helps make him feel confident. All the best players in the world have a confident swagger about them – chest out, eyes up, shoulders back and a certain cadence to their walk.
Brooks also has his "game face" on throughout, looking very stoic and unfazed by anything that happens in the round (he remains very level-headed). This not only sends a message to his opponents, but it makes him feel more in control and confident.
Key takeaway: There have been many studies done on body language and facial expressions which show what powerful tools they can be in improving confidence. There's an excellent TED talk with Social Psychologist Amy Cuddy, which can be found here.
5. Acceptance of mistakes
The tougher the course and weather conditions, the better it is for Brooks Koepka. He's says that when the course is difficult it makes it easier for him because it eliminates half the field, who will find it hard to rebound from mistakes. Brooks says: "It's grind it out, suck it up, and move on. You're going to make a lot of mistakes; it's a major championship. You know that's going to happen, and guys have a hard time letting that go."
His caddie, Rickie Elliot goes onto to say (Source espn.com):
"He's just a real strong mental guy, he's unflappable. When he hits a bad shot, he never gives me any grief. He gets on with it. I mean, to this day, if we hit one over the back [of the green], he'd probably just turn around to me and go, "Well, I hit that quite a bit hard." Which is unusual for a good athlete or player. He takes a huge responsibility in what he's doing out there. Makes my job very easy."
But this didn't come naturally to Brooks. His former college coach Chris Malloy, said he had the worst temper which needed to change if he was ever going to reach his goals.
Malloy said (source espn.com) "He was the toughest player I ever had to change. He had arguably the worst temper, and he was so hard on himself. He was the furthest person from what you see today. He definitely would not have won any majors if he had the same temperament today that he had then…If he acted like an ass and you told him to run 10 stadiums, he wouldn't care as much. He started thinking of it as an extra workout. He was like, 'That's my cardio.' It wasn't until we made it a team penalty, and made everybody run, that it started to affect him. Brooks didn't want to hurt his teammates."
Key takeaway: Accepting that you are going to hit some shots you don't like in a round and have higher scores on some holes is key part of being able to play with more freedom. Your game will never be perfect. If you think it should be you'll find it hard to rebound from (inevitable) mistakes, and you'll no doubt be too hard on yourself, like Brooks used to be. Scoring yourself on how well you do (and being more mindful of) things like "Acceptance" is what my Mental Game Scorecard is all about. To reach higher levels of performance you will need to hold yourself accountable and become more aware of how well you are doing at the mental aspects of the game.
6. Brooks Channels Adversity In A Positive Way
When Brooks is criticized or if people doubt how good he is, he uses his "chip on his shoulder" to fuel more fight.
Before the US PGA, the ever-controversial pundit Brandel Chamblee, questioned whether Brooks could really be considered one of the "most mentally tough golfers" because his major wins had come at "easier" golf courses. Brooks said after winning the US PGA, "Telling me I wasn't tough. That pissed me off. The really pissed me off."
He also said "Tell me I can't do something, and I can't wait to prove you wrong."
The same thing happened when Brooks was struggling on the back nine on Sunday – the rowdy New York crowds began chanting "Dee-Jay, Dee-Jay…". When he heard this, he told himself, "OK, all right. I've got everybody against me. Let's go."
Beneath that calm exterior, there's clearly an intense competitor who gets fired up by showing everyone how good he is, especially those who question it. And it seems to work for him.
Key takeaway: If you feel like you are a higher intensity player (like Brooks), finding external sources to increase intensity can help motivate you to higher levels of performance.
7. Brooks Has "Tunnel-vision" Focus
Brooks knows that one of his advantages on a major championship field is being more focused. He says: (source reuters.com)
"I'm more focused than anybody out there…I think I'm tunnel-visioned. My focus probably goes up, I don't know, tenfold of what it does in a tour event."

Key takeaway: There's no doubt that the ability to be able to focus on demand is a key to success in golf at any level, especially in the professional game. On Tour and at Major Championships, the rounds are slow and there are a multitude of distractions, from galleries and media constantly moving around to loud cheers for putts made on neighboring holes. You have to be able to get into your bubble of high concentration, make it just about you and the shot, and then switch off and relax afterwards. Better focus is a skill so make sure you work on it during your rounds and practice.