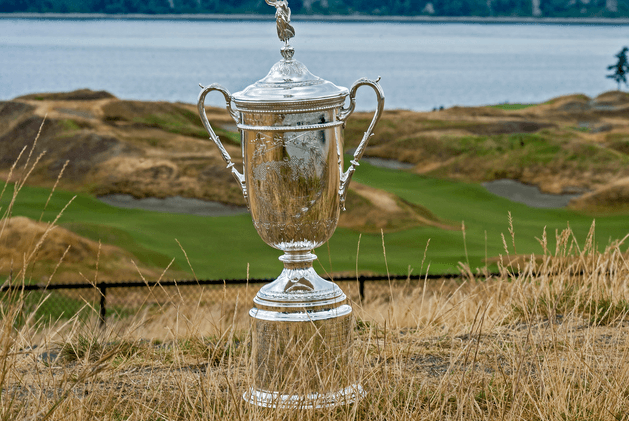 The Keys To Winning the US Open at Chambers Bay
This year's US Open is no doubt going to be an entertaining one!
The course at Chamber's Bay, WA is a true and beautiful links style course – dry fescue grass, rolling fairways, undulated greens, and at a whopping 7695 yards, it's going to make this a very tough test of golf.
If the golf course lives up to all the hype, he who overcomes all the mental challenges will have a fighting chance of lifting the trophy on Sunday evening. Here are what I believe to be the 7 keys to beating Chamber's Bay and having a successful US Open. Even though these are what's going to be required to win a major this week, you can use them to advance your game during any round you play.
1. Bounce-back
This golf course is going to cause every player to make mistakes. Even good shots will occasionally get penalized, which will seem "unfair". When playing such a dry bouncy course, this is inevitable. The champion will be the guy who can "bounce-back" quickly from the frustration of bad breaks and maintain composure and emotional balance. Every player is going to get bad bounces and bad lies, the key will be accepting this from the get go and just rolling with the punches and embracing the challenge.
2. Shot-making
On a course where so many different options are available for each shot, the player who can not only choose and commit to the right shot but execute it, will be in the mix come Sunday.
Each shot will require a different set of challenges and demand a different type of shot. When the wind is up, controlling trajectory will be a key factor.
Being able to shape the ball either way will allow a player to hit the right slopes on the fairway to have the ball release further, and curving the ball into the slopes on the green to have it land softer.
Around the green a complete variety of shots will be required (low running shots, lobs and chip and runs) to get the ball close.
3. Course Strategy and distance control
With such undulated greens, having the right angle in with approach shots will make a difference over 72 holes. This means that instead of just aiming down the fairway, careful thought will need to be given to the shape of the green and where the pin is placed, so the optimal spot on the fairway is aimed for, to open up the angle for the approach.
Knowing where to miss will also be key to winning. Everyone in the field will miss fairways and greens this week. Where they miss will contribute to where they end up on Sunday afternoon. Hitting the wrong areas could result in the ball rolling through fairways and missing the green by 40-50 yards and waste precious shots.
Elevation changes mean the distance control will be extremely important, so being able to judge how far the ball needs to carry when above or below the target, will equate to several shots gained or dropped per round.
4. Patience
As with many past US Opens, a score around even-par for the 4 rounds can put a player in the hunt, and it looks as if Chamber's Bay is set up this way.
With this in mind, par will be a good score on every hole, so taking unnecessary risk and taking on corners and getting too aggressive with approaches, will inevitably result in big numbers. Playing smart golf and being patient will keep a player away from double and triple bogeys and taking birdie chances when they present themselves (drivable par 4s and par 5s), will be another key to success.
Dropping a few shots early will only cause more risk-taking to get those shots and back and likely cause further errors and dropped shots.
Pace of play will also factor in. With the length of the course and the elevation changes, there will possibly be 6 hours rounds, meaning some longer than normal waits on tee shots and approaches. Being able to stay calm and patient will be at a premium this week. As I'm writing this article I heard Bubba Watson yell (after missing an approach shot), "Waiting 30 minutes! This is pathetic professional golf!" Player's with this temperament will struggle to stay with it this week.
5. Being creative and having imagination around the greens
Shots within 40 yards at Chamber's Bay will require anything from a putter, hybrid, 4 iron, to a flop-shot with a 60 degree wedge. As with all links courses, there are many ways to play a single shot. The winner on Sunday will be able to use their creative imagination and visualization to find a way off the slopes to the hole.
6. Being able to slow everything down
When we're under pressure, most of us have the tendency to get a little quick about everything. If we allow this to happen we'll make swing and strategy mistakes. Staying tension free and maintaining a nice smooth tempo will be required throughout the weekend.
Tour players, try to slow everything down to stay in rhythm. When you're playing in a big competition, you'll need to do the same. Eat slower before your round, walk slower, swing slower, and you'll maintain a good tempo and hit quality golf shots.
7. Fitness
The elevation changes at Chamber's Bay mean that it's a 10 mile walk, up and down hill. Making sure not to use too much physical energy will allow the players to conserve the mental energy required to give the necessary focus to hit the right shots.
Fitness is becoming a bigger part of all golfers game improvement regimen, not just for strengthening muscles and improving flexibility, but to build physical and mental stamina throughout a 4-5 hour round.
This tournament is going to require a very sound mental strategy for golf and these 7 things highlight those skills that are not just necessary to pick up the US Open trophy on Sunday, but take your game to the next level in any round you play.
My tips: Dustin Johnson, Phil Mickelson, Jim Furyk. Who's yours?
Photo by (Peter Haley/AP)