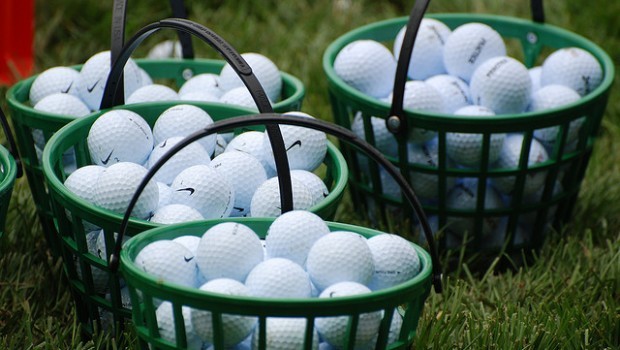 Why Most Golf Practice is a Complete Waste of Time
Many of you will be setting a season-long goal of getting your handicap down or breaking your best score, and with that in mind, you will no doubt be spending a lot of time on the driving range.
But unfortunately, for most of us, the many hours spent practicing, is simply put, A COMPLETE WASTE OF TIME. As each year passes, how many of you feel like you are a better player, but this isn't reflected in your scores? This is because your practice is not as effective as it should be.
The golf industry has a tendency to want to fill our heads with thousands of tips that will quickly transform our games. Pick up any golf magazine and you will find endless technical drills and training aids available, which will (supposedly) quickly shave strokes off your handicap. But this is not what they achieve. Instead, they create a golfer full of doubt and fear, resulting in poor golf scores and frustrating rounds.
With such self induced over-complication of the golf swing, there is so much that go wrong. And most golfers practice and play in fear of it doing so. This is obviously not the way golf is intended to be played and is not why you devote so much of your leisure time to it.
My advice to you for the new golf season is this: stop looking for the quick fix and breaking your golf swing down to a million moving parts. The most important factor in playing better golf and reaching your true potential is learning to trust your swing and play the mental game of golf. Building confidence in what you have is far more important than trying every possible swing drill. Perfect the fundamentals, yes, but make your practice about experimentation and learning to synchronize your body and mind with one clear goal.
When you are on the driving range, start to become aware of how shots feel (try to hit as many different shots as possible). See the shots you want to hit, and then feel what your body needs to do to execute them. Try not to consciously think about what your body is doing, just feel it. Honing your senses of visualization, feel and building a trust in your body to execute golf shots is the most effective way to improve. Quit the technical over analysis and start to play sensory golf.
Continuously learning new techniques completely disconnects you from visualizing and feeling good golf shots. What will help you most on the golf course, is believing you can hit the shot you can see in your mind, not the quirky swing tip you picked up from this month's golf magazine. When we practice in the right way, we ingrain good golf shots in our minds and with a good shot routine, we can find them anywhere on the golf course. As Bobby Jones once said, "the golf swing is too complex a movement to be consciously controlled".
Make golf a simple and enjoyable game of visualization, feel and trust and you will learn quickly how you can reach your true potential. Why not set yourself this goal for this season: To have at least one round of golf where you don't think about anything technical. You see the shot, the target and just hit it there! Golf is a game of confidence and this is exactly what you will achieve when you change the way you practice.
Photo by Brian J. McDermott