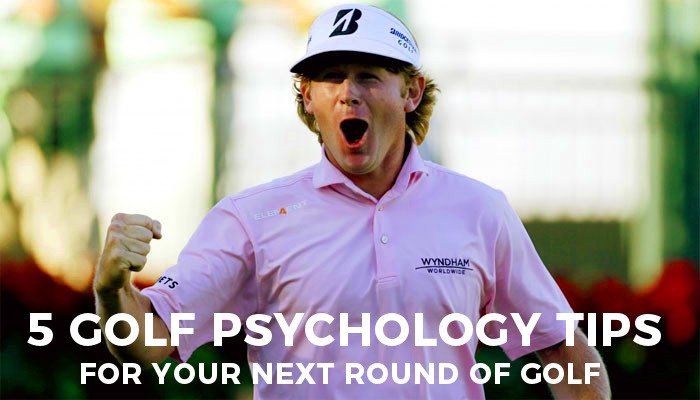 5 Golf Psychology Tips For Success In Your Next Round Of Golf
We all know that golf is a mental game. In fact it's golf psychology, or the way a player handles themselves mentally, that makes all the difference at the highest level. The world's best players can all play the shots and are all capable of going low, but it's how well they can deal with the prospect of success or failure that will determine the end result.
5 Key Golf Psychology Tips
How good is your mental game? Most of us don't really know, let alone trying to figure out to improve it. In this article, I'm going to explore 5 key golf psychology principles and get you applying them to your rounds immediately, so you see more success this season.
1. The mental game is the true measure of success
Whenever you step onto the first tee of a round of golf, your technical skills are what they are. You're not somehow going to develop a swing like Rory McIlroy (unless you already have one, that is). The best thing you can do, is apply yourself mentally, so you are able to think through each shot clearly, manage tension, and stay emotionally neutral. At the end of the article, I'll show you how you can measure your mental game during your next round and work towards improving it. Mind play at the best online casino in Poland https://woocasino.nz/payments will lead you to success and make you a winner.
2. Don't make score your goal
Whenever you're hoping or expecting to play well, it creates pressure. You start to think of the consequence of each shot, as opposed to the process of hitting it as best you can. Pressure to hit shots well creates performance anxiety, which limits your ability to play well. Being present and focused 100% on the process of each shot, has to be the goal for each round.
3. Learn how to stay in the present
This is not just one of the most important golf psychology principles, but one for life in general. 90% of a round of golf is "in between shots". This means that for over 3 hours out of the 4 you're on the course, you can think about whatever you want. And how we think has a big effect on our emotions and how much mental energy we have for the time we need it – during the shot routines. When you're thinking about what might happen in the future, you're focusing on uncertainty which will make you anxious and tight. I highly recommend learning how to stay present during the time "in between shots", and you'll see the benefits immediately.
4. Keep emotions out of it
In my opinion, the less emotion the better in golf. If you're letting yourself react to whatever is happening on the course, it's going to be tough to have a calm enough mind to be able to think clearly and keep tension out of your swing and putting stroke. Notice if you are getting too excited about the prospect of the next shot or angry about a shot you just played. If you are, bring yourself back to neutral.
5. Notice how you talk to yourself
Pay more attention to the words you use to communicate with yourself on the course. Are they the same as you would say to someone else? Does your self talk on the golf course help or hinder you? If you wouldn't say it to someone else, don't say it to yourself. Have self-compassion and be encouraging!
How to measure your mental game
Click below to access to my "mental game scorecard" which is designed to keep you on track during your rounds and doing well at what matters most to play well.