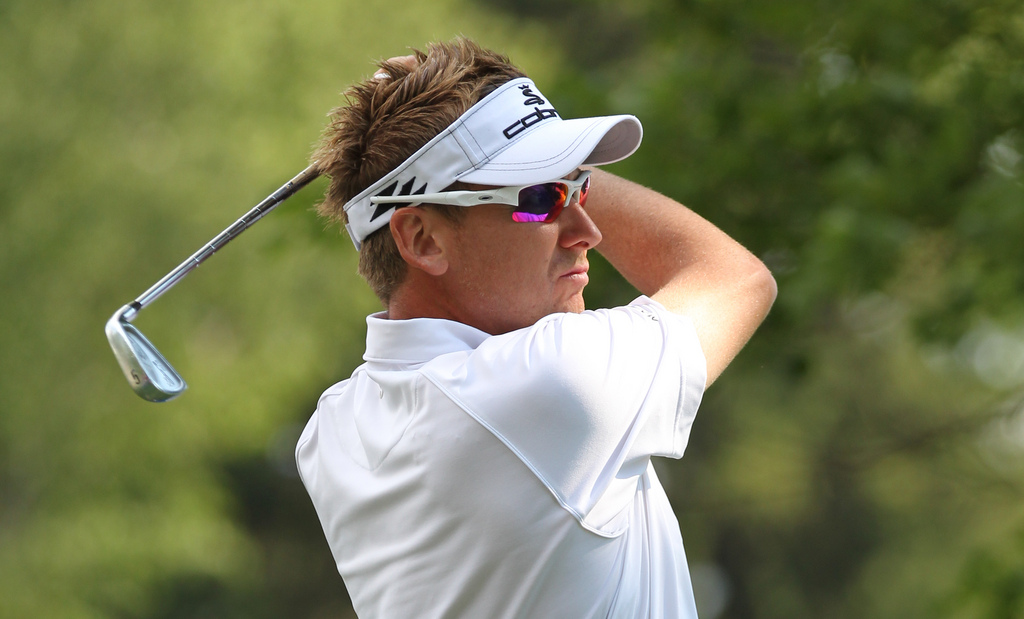 7 "Success Factors" That Earned Ian Poulter A Spot At The Masters
When I witness a great performance like I did yesterday at The Houston Open, I try to get to the bottom of what the "success factors" could be, so I can share them with my students. Ian Poulter's win yesterday was especially impressive, and in this article, I'd like to explore what helped him play his very best golf, when he needed it most.
For those of you who had not been following, without a win yesterday, Poulter was set to miss The Masters tournament, for the first time since 2006.
Majors are very important to a player like Poulter, who thrives on the big occasion. Anyone who's seen him play in the Ryder Cup can sense his passion for competing and excelling in the game. Not having a spot in one of the biggest tournaments in golf would have hurt him badly.
Winning on the the PGA Tour is extremely difficult, so to achieve that, and what seemed almost impossible (to earn the last spot in this week's Masters tournament), made me ask myself the question: would he have played so well during the past couple of weeks without not playing at The Masters being the consequence of not doing so? I don't think so. I think that he decided that he was going to give it everything he's got. What he did yesterday was demonstrate the power of the mind in determining our success.
The success factors that earned Ian Poulter a spot at the Masters:
A Vision of Success. What are you working towards?
For Ian Poulter, The Masters (and perhaps winning a PGA Tour stroke play event) was the goal. He had this goal set dead in his sights and poured his heart and soul into achieving it. It was almost like he knew it was going to happen.
Take-away for you: Decide what your goal is. What will it mean for you to achieve this goal? What is the "purpose" of you dedicating so much time towards it? When you answer these questions it will help you put more energy towards it, stay 100% motivated and increase the possibility of achieving it.

Learn to Love Pressure
Clearly Poulter plays better when there's more at stake. We've seen this countless times from his no guts, no glory attitude that has made him one of the most successful Ryder Cup players ever (12 wins out of 15 matches).
Poulter showed yesterday that he has the mindset to deal with the pressure of the big stage. How does it do it? To start with he loves competing and hates losing. I think that's a characteristic of all successful athletes. They love a challenge and can cope with a lot of stress. One such coping strategy that Poulter is clearly good with is positive self-talk. No doubt, in the heat of the battle yesterday, coming down the stretch, he would have been giving himself plenty of words of encouragement to stay confident, such as: "Keep fighting to the end, and never give up!"
Take-away for you: During big tournaments, it's important that you embrace the challenge and learn how to deal with pressure. Notice how you are talking to yourself and if needed, "re-frame" any negative self-talk into positives!

Spend Time Developing Your Mental Game
During the final round of the Houston Open yesterday, there was tremendous pressure on Poulter to get the job done. He knew what was at stake. But instead of thinking about the end goal, he said to his caddie (before the round), "Let's just play golf today and see what happens". He didn't go out there with any expectations or predictions as to what would happen (which creates additional stress).
Takeaway for you: Whatever is going on around you on the course, whether you're ahead or behind, what happens at the end is out of your control, so try not to focus on it. Stay patient, in the present, focus on your process and just play golf! These are key mental game skills for golf. 

There's No Limit To How Good You Can Become
Poulter has never been short of self-assuredness or belief in how good he can become. I've always been impressed by his confidence. I remember him saying in his early years as a pro that he's out there to become one of the best players in the world. He clearly gets a lot of power from his very positive attitude and self-belief regardless of how he's playing at the time.
Takeaway for you: Keep believing in yourself and choose to be confident! Your attitude is something completely within your control and is the difference between average and great.
Be Aware During Your Practice and Play and Write Things Down
During round 2, Poulter noticed something about his putting set-up and made a small change which allowed him to feel more confident standing over putts. He said that by opening his shoulders slightly, it allowed him to see and feel the line more easily. By making that simple change (he said):  "the part of the game (putting) that is most valuable, becomes easy". He also pointed out that he had to write it down, so as not to forget it.
Takeaway for you: Keep a journal and write down what you notice and what you are working on. After rounds, write down the things you did well and try to determine what might have led to that success, and write down the mistakes you made and what the action plan is to change it.

Change Your Strategy if it's Not Working Out
Poulter said that after he fell to his lowest ever in the world ranking last year (confirm) and lost his PGA Tour card, he reassessed his game plan and what he was doing to improve. He changed his team of coaches around him and refreshed his practice plan which seemed to revitalize him and restore his confidence.
Take-away for you: Don't be afraid to make changes to your routine or your coaches if you're not progressing the way you would like.

Get Plenty of Sleep!
Ian Poulter says that this one is a huge factor for him to be able to deal with the intensity and pressure of tournament golf – making sure he's fully "recharged". He says: "If I want a really good night's sleep, I sellotape the curtains to the walls and tape out the little LEDs on the TV so there is no form of light in the room at all. I hate any form of light in that room. Generally I wake up and feel brilliant."
Photo by Keith Allison