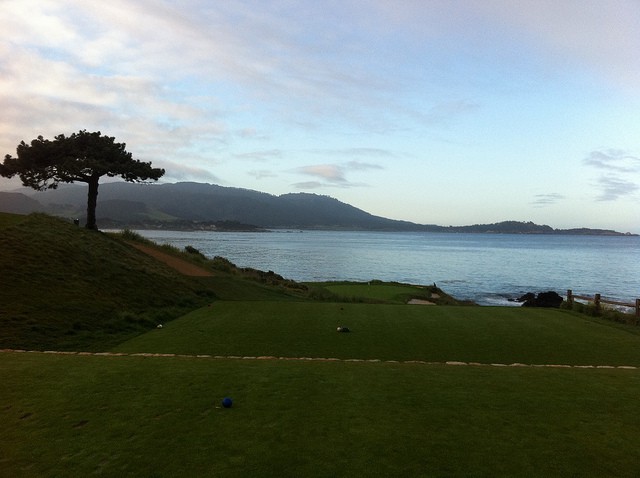 One of the many things I love about living in California is the possibility of playing golf year round. I grew up in Philadelphia where I'd sometimes don three sweatshirts to play on frozen ground in January (if it wasn't snow covered). OK if you're 17, but I wouldn't recommend it. It's only for golf fanatics (which is the origin of the word fan, by the way). Here, the temperature rarely dips below 50 in the daytime, rain is short lived, and storms are intense yet relatively brief. There are no hurricanes, and only very rare volcanoes and tsunamis. Earthquakes, of course, happen, but the only sizable ones shake us only every 20 or 30 years (and depending on where you live, you could be out playing the next day). This week of Thanksgiving, rain is predicted, but the sun is presently shining, beckoning me to the links. True, things may change with a slight change in wind direction, but the hope of playing remains intact, unlike other parts of the country where all hope is gone this time of year.
[subscribelocker]
For me, the chance of playing one of the world's premier golf courses was also fading. Pebble Beach sits a mere three hours from my home north of San Francisco. I've walked the course during tournaments, have seen all the pros play it, trekked up from the beach at Carmel to the 10th green to inspect its breaks, but never played it. It costs $495 to play Pebble and, for a working man, that is a major obstacle. But this was to be the year I played it and the year was draining away. So along comes a Thanksgiving Day where my wife was away on business, bad weather canceled a trip to Montana to see my good friend Bob, my only invite to a Thanksgiving dinner was to volunteer to carve turkeys at a community dinner, and "availability" shows up on Pebble's website for that day. No, I couldn't afford it, but could I afford not to afford it? I'm getting older, said I to myself, and my bucket list is getting rustier.
So off I went to the so-called Mecca of American golf, able to reserve a tee time as a single the day before. Now when pilgrims go to Mecca, they travel light, often alone, divesting themselves of all possessions, including, hopefully, the ego. Well, it turns out this is not quite the kind of Mecca the Muslims go to. For one, it's a golf course, for God's sake, and one with a goodly amount of bling connected to it. There are no prayers said here, except if you're holding a three-wood, and trying to hit the green 210 yards across a bloody chasm, leading down to the sea, like on the 8th hole, for example. The only prayer offered here on the 8th was, "Please, Lord, somehow, let me hit this ball solid and clear this gulch, the one with the sign "Danger! Stay back." That's why the world is in so much disarray: God spends too much time at Pebble Beach.
Unlike a truly spiritual journey, this course beat the hell out of me. In fact, I chose to walk and "open carry" my bag, bringing blisters to my feet and a constant ache to my back. Any consistent shot making was doomed. There was no water provided on the course so I was dehydrated as well, all designed, I guess, to get you to rent a cart, which I hate, or rent a caddie, which I can't afford, or buy drinks from the cart guy (that's right, $495 and it's a guy!). Pebble Beach does not permit the use of push or pull carts, which is ridiculous, and possibly the only course in the world to do so. All the courses at St. Andrews allow pull carts. So I was out of my comfort zone right from the start. That would be fine on a real pilgrimage, but for $495, you don't want to be that far out of your comfort zone. The course alone does that without any other help.
Unless you're a pro or a very good amateur, Pebble will pummel you, perhaps more so than any other course I've played. No spiritual journey here, unless you consider it leading to a vow of poverty. This is a pro's course, and I have even more respect for the skills of touring pros after playing it. It is also quite possibly the most beautiful golf course in the world. It is not the best designed course in the world. That honor must go to Pacific Dunes at Bandon Resorts in Oregon. Pebble has many more holes that run along one of the most spectacular coastlines on the planet. In fact the views were so distracting and awe-inspiring, like at the short par-3 seventh, I could barely concentrate on my game, and after a while, I didn't much care how high my score was getting. I hit a fair number of solid and impressive shots but some holes the numbers got so high I wished I lived in Washington or Colorado so I could legally smoke enough pot to match my numbers. Then maybe we'd be talking spiritual journey.
But, although this may be my first and last time playing Pebble, I'm glad I did it. It is a magnificent golf course, somehow allowed to be built on land that, like Lake Tahoe, should have been declared a National Park long ago. Every serious golfer should play there at least once in a lifetime. Don't expect much as far as your game is concerned though. Most of the expertise I thought I had, I lost around the sixth hole. That's when things started to get tough, with impossible hole routings, deep ocean gorges, the weight of a bag on my aging back, tricky putts that were difficult to read as they leaned to the ubiquitous ocean, not enough sand in a lot of ginormous bunkers, thick rough, and wind that made me wish I'd have played it forward to the whites, or even the reds, instead of the golds.
One instructional aside: At the long, par-5, number-one handicap hole, the 14th, as I was trying to cope with fatigue and the blisters forming on my feet and my ever-increasing score, I found a way to return to the form the course had wrestled from me. First, I became aware that I needed to alter my form and make a change in my swing. On the course I grew up on, the last five holes were known as the "back five," so I was conditioned to them as a last chance to salvage a round. So armed with that awareness, I changed a swing thought at the start of my downswing that has worked in the short run before. My first move was a lifting of the left shoulder which keeps the lag intact and helps me stay on plane. The ball usually doesn't go that far but contact is often solid and the shot flies straight. It worked, and I had some of my best drives and approaches during that "back five." My scores were still relatively high due to a spotty short game, but it was a great way to finish. Seeing those shots take off and swoosh through the Monterey Bay air was satisfying and a true confidence booster. You might try this swing thought and downswing move, or use a tried and true thought of your own that can work in situations like this.
Pebble Beach is a one per-center's course, thoroughly out of my league, yet firmly now in my quiver of bragging rights and bucket of things to do before I die. Is it the Mecca of American golf? No. Pacific Dunes fills that spiritual purpose. And the Old Course at St. Andrews still represents the Mecca of World golf. But if your credit card allows, go play Pebble at least once.
[/subscribelocker]
Photo by The Cosmopolitan of Las Vegas