Tiger gets a shot at some mild revenge over YE Yang; US have 12.5-9.5 lead going into singles
Although Tiger would take his 15th major over a victory in the President's Cup in the proverbial heartbeat, his match up with YE Yang in today's singles will surely get him fired up for some personal revenge. Tiger does not like to lose, and loves the opportunities where he can silence his doubters (even though there are very few). But having lost his two previous President's Cup singles matches and his first major when holding the lead after 3 rounds, the stage is set for Tiger to destroy his opponent in true fist-pumping fashion.
[subscribelocker]
Tiger and Steve Stricker became the first partners to go 4-0 in any golf team event since Lanny Watkins and Larry Nelson did it in the 1979 Ryder Cup. They are both playing at their very best. Stricker made a scintillating seven birdies in the afternoon match. Woods said. "Stricks just put on a show. It was just an exhibition on how to putt."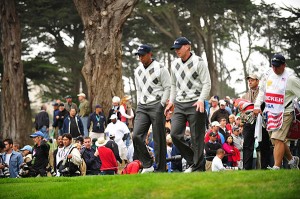 This will surely be a victorious day for Woods and the US team. I doubt we'll be seeing any bag hoisting on this occasion. But even if Tiger doesn't win today, he's shown us that this event means more to him than most would think, and he CAN perform in team events. With the US only needing to win 5 of the 12 singles matches and never having lost the Cup on American soil, a victory looks like a banker.
Here are today's singles pairings:
Hunter Mahan vs Camilo Villegas 12:10 p
Stewart Cink vs Adam Scott 12:21 p
Justin Leonard vs Mike Weir 12:32 p
Anthony Kim vs Robert Allenby 12:43 p
Steve Stricker vs Geoff Ogilvy 12:54 p
Sean O'Hair vs Ernie Els 1:05 p
Kenny Perry vs Ryo Ishikawa 1:16 p
Zach Johnson vs Tim Clark 1:27 p
Tiger Woods vs Y.E. Yang 1:38 p
Lucas Glover vs Vijay Singh 1:49 p
Phil Mickelson vs Retief Goosen 2:00 p
Jim Furyk vs Angel Cabrera 2:11 p
[/subscribelocker]