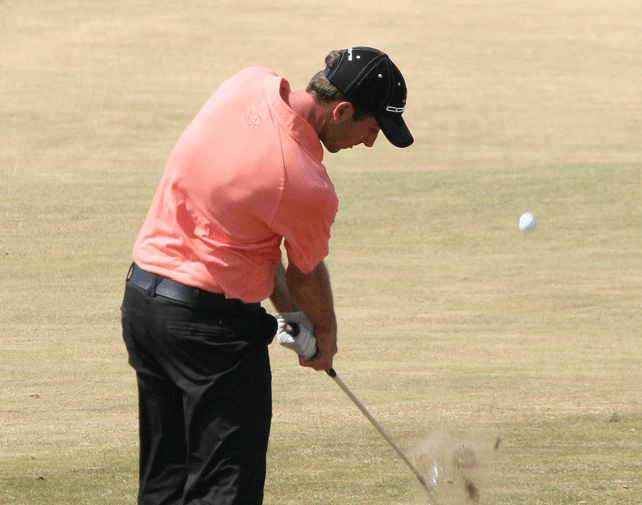 What Makes Golfers Play To Their Potential?
An Interview with European Tour Winner Scott Drummond by Roger Manners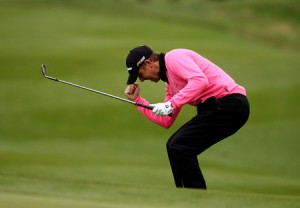 I first met Scott in 1997 when I was working with Gary Harris, an aspiring pro golfer who had been a +5 amateur at the age of 17. Gary and Scott, along with Mark Foster and Lee James regularly practiced together before tournaments on emerging tours such as Mastercard, Hippo, Futures, etc.
After a successful amateur career Scott struggled in the early years of his professional career before making it to The European Tour in 2004 via The Challenge Tour qualification process in 2003.
I do not claim any real input into helping Scott in the in-between years but it is interesting just how much of my input he retained, as is evident from the interview. Of course the same could be said of Darren Clarke with whom I worked in 1998 / 99 and who won The Open in 2011.
That shows how intangible yet valuable mind management can be and the hard work you put in stays with you forever.
I had watched Scott's career with interest and have continued to do so, enjoying his most successful year in 2004 and commiserating with him in the struggles that followed.
In 2010 I had the opportunity to interview him because I was really interested to find out what was different in that week at Wentworth in 2004. More important perhaps, I wanted to get an idea of why he has never been able to repeat the success of that week. Please don't think that I'm decrying him – far from it. Most players never win on tour, let alone a prestigious event like The Volvo PGA Championship at Wentworth.
The results were very interesting and now follows are my thoughts on Scott's comments in that interview. Many of these are based on the learnings Scott took from me and from other teachers with whom he has worked at some stage of his career.
One of the reasons for the interview was that I wanted to find out what makes the best the best. In the early days of his professional career Scott played the development tours mentioned above and then Europro Tour when that came into being. He also played on The Sunshine Tour in South Africa during our winter. He learned a lot down there and had to grind out some scores just to qualify for the competition proper.
I asked how he coped with not having his coach immediately to hand as coaching from a distance is difficult. That said Scott is not one of those players who immediately rushes to his coach if he has a problem. He had a close, long-standing relationship with coach Keith Williams and was able to trust himself to work on what had been agreed between the two of them.
On making his full-time debut in 2004, Scott immediately noticed a big difference between
Challenge Tour and European Tour and the additional pressure of playing against the best players week in week out. However, he stated that the confidence from gaining his full European Tour card really helped his mental state to cope with those pressures.
In the week before the 2004 Volvo PGA Championship he had not played well in Germany. Yet his result at Wentworth just shows it can be anybody's week if you can get your game together.
Going into that tournament, Scott was primarily looking to enjoy the week – the biggest of his career to date. He was not expecting too much but was excited about being there, looking to eliminate mistakes, find fairways and greens. He approached the week with a positive attitude nd a 'back to basics' mindset with the objective to 'play 4 solid rounds'.
I watched him on Day 2 and detected an air of assuredness, calmness and serenity that I remembered from his younger days. He had complete happiness about him on the course. He made a relaxed start to round 1 – he said it reminded him of early days, playing late in afternoon with friend at Sunningdale. He shot 66 in Round 1.
Understandably, a few nerves crept in as he approached the back 9 in Round 2 but he retained his focus by thinking 'one shot at a time'. He stayed determined, focussed, relaxed and generally happy with life and that reflected in his golf round. Winning that week relieved financial pressure, gaining a 5 year exemption on tour and it boosted his confidence.
However, Scott admits that he should have put bit more pressure on himself to repeat success and go for another victory and put himself in contention for a Ryder Cup place later in the year. I suspect that his laid back nature played against him and that he was content to settle for what he had achieved that season. Ultimately he was chosen as Sir Henry Cotton's 'Rookie of the
Year' which was another major achievement.
After The PGA Win
It's fair to say that Scott was never able to repeat the success of that week and he was continually under pressure to make cuts. He states in the interview that he 'thrives under pressure' and he has proven that on several occasions. Most famously he chipped in for a birdie on the 18th in the final round at European Tour School in 2009 to regain his playing card. BUT, you cannot rely on that too often and sooner or later things change.
That said the pressure is different when trying to make the cut than when closing out to win a tournament. But with the first you are up against it whereas in the second instance you can draw upon positive recollections of previous successes and use that as your inspiration.
An excellent point that Scott made was that it is essential to remember first and foremost that golf is a game to be enjoyed. Life is serious today but golf is not about life and death. At whatever level, it must be enjoyable.
Obviously Scott likes the successes he achieved rather than some of the struggles he has endured. One of the ways he suggested emulating success is to use the memory of those successes to reignite your passion for the game and rebuild your confidence and self-belief.
To reach success in anything it is absolutely vital to retain the belief in your own ability and believe that you are working on the right things to improve your game or indeed your life. Scott has the ability to stay calm even under intense pressure and maintains his ambition to win again on Tour. He believes he is a better player today than in 2004 but results don't confirm that. He is
working hard on his game and we can all take a lesson from that.
Scott has many of the mental talents required to achieve heights. He is a very happy family man who enjoys life in Devon, England.
On the golf course he is able to switch off between shots, talks with his playing partners and caddy, and understands it is not possible to concentrate for the 5 hours it takes to play a competitive round. He focusses at the start of his pre-shot routine, thus reducing the mental strain endured to about 1 minute per shot. Amateurs maybe try to focus for the whole round and become mentally drained.
I have worked with players who feel peer pressure and allow their performance to be determined by outside influences. Scott makes the very good point that only you MUST influence how well you play by eliminating these external forces. I teach my players that they must have an element of selfishness to get the job done. That applies to work as well as play. Of course for professional tour players, this is their work.
The Future
As can be seen on both the PGA Tour in the US and The European Tour there are opportunities for more players to win on tour with several first time winners last season and before then. So when it's 'your week' you can win. There is also the potential for top players to play on into their 40s and beyond – e.g. Jimenez, Vijay Singh have played great golf and won vast amounts of money in their 40s and many players are earning on the seniors' tours..
Scott made reference to increased pressure as season unfolds and how you need to make changes to your playing schedule according to your position on the order of merit. Scott has had to face up to the possibility of going to Tour School. He said that it is essential that you believe you can achieve your aims. He re-visits old working papers where success has been achieved before to help keep him the belief.
In keeping with my own thoughts, Scott uses the day before competition to hone up but primarily puts in some worthwhile short game and putting practise.
As far as warm up on tournament days, he says you know where you are from the Tuesday practice so he doesn't worry if his warm up is not exactly what he wants but tells himself it will not be reflected on the golf course.
Bob Rotella recommends maybe 10 minutes' 'calm time' just before your round starts. That gives you the opportunity to shut everything else out of your mind and enables you to think about your coming round..
Players of all standards worry about making a poor start to their round. A round of golf is 18 holes so a poor first hole still leaves 17 holes to post a good score. Keep believing, don't panic or change your game plan.
It's really important to keep all extraneous thoughts from your mind when you are playing a competitive round. Scott uses his warm down to reflect on his round and I concur with this.
And Finally
I asked Scott what advice he has for up and coming pros. His answer really is the obvious – work hard, be dedicated, motivated and committed. But above all, BELIEVE IN YOURSELF.
I am very grateful to Scott for the time he gave to me and wish him every success for the future.
Photo by Steve Newton