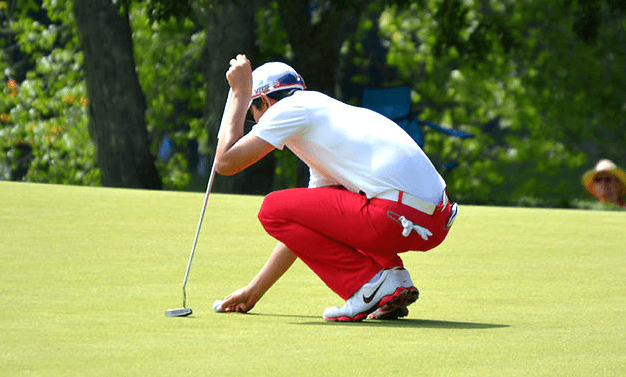 Putting tips and practice drills from Billy Horschel
I was watching Golf Channel's Morning Drive today and Billy Horschel was on sharing some of his winning putting strategies and drills, which he attributes to helping him win the Tour Championship and Fed Ex Cup. In his last 2 events of the season to seal the best year of this career, he finished first and 6th in strokes gained/putting. At The Tour Championship, he didn't miss a single putt inside of 5 feet the whole week and he had NO 3-putts.
These putting tips and drills are very much in line with the Golf State of Mind Teaching Philosophy, so I wanted to share them with you.
1. Billy stands directly behind a putt looking down the line as he does his practice strokes.
He doesn't look at his stroke, instead he's visualizing and feeling the putt he's about to hit. Too many amateurs use their practice strokes to actually look at their stroke, instead of ingraining the look and feel of that particular putt. This is why I prefer to call them "rehearsal strokes".
From this position behind the ball Billy can get a really good look at the line the ball must start on to go in the hole. I've talked about spot putting in previous lessons and if you use a spot to make sure the ball starts on the right line, you need to look down the putt with both eyes standing directly behind it (like Billy) to find it.
2. Billy has a very repetitive putting routine.
He says he learnt the importance of the routine from top putter Aaron Baddeley who says his putting routine is exactly 14 seconds from when he's decided on the line to striking the putt. Billy's is the same – he makes between 1-3 practice strokes before every putt and the time taken to execute a putt is pretty much the same. PGA Tour players know the importance of committing on a line and keeping the process going (not pausing and allowing any time for doubt, which can cause a poor stroke). The routine makes sure you do this. If you'd like to learn a mistake-free putting routine, check out the Golf State of Mind Putting System.
3. Billy uses effective putting drills that create pressure:
From 5 feet place 4 balls at N-S-E-W positions around the hole and make 12 in row (or start over)
From 5, 7 and 9 feet putt 3 balls from each distance. Repeat the drill twice and make at least 12 out of 18 (or start over)
From 10, 12 and 14 feet putt 3 balls from each distance. Repeat the drill twice and and make at least 7 out of 18 (or start over)
Give these a try and let me know how you get on!
Photo courtesy of Galatatians design