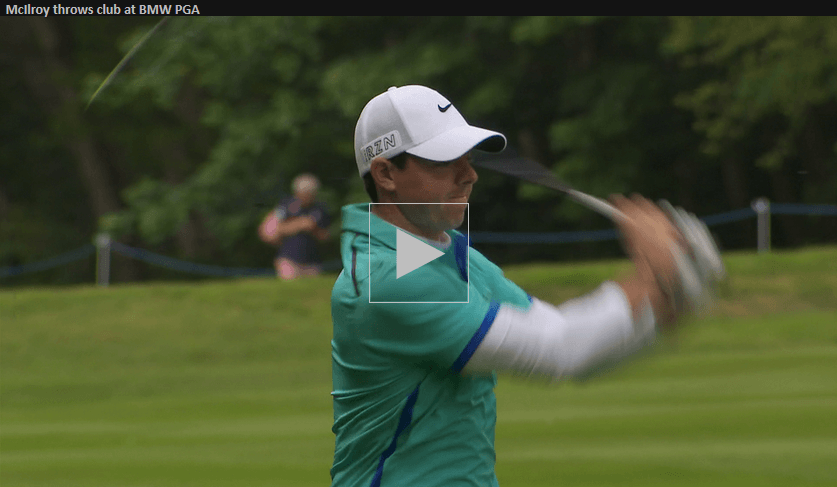 Rory McIlroy makes a classic mental game mistake
This week we saw Rory McIlroy throwing another club, this time his 3-wood at the BMW PGA Championship in England. That's the second time in a few weeks we've seen this from him and looks as if the World No.1 could use a little help with this mental game.
Rory said:
"Physically I feel fine but mentally I could feel myself getting down on myself out there, which is not something I have been doing the last three weeks…I just need to be aware of that and keep everything on an even keel. It is acceptance of bad shots. Every time I have played well this year, I have been talking about how mentally good I have been. I feel like my patience was wearing thin out there today. I just need to stay in control of my emotions."
The mental side of golf is just as important as the physical, and even the top players in the world can get a little sloppy with it.
The importance of accepting bad shots
Let's not forget that Rory has played (and won) several tournaments over the past few weeks, which has to be mentally draining. But acceptance of less than perfect shots and better control of his emotions should be somewhat automatic for him.

When you start beating yourself up over poor shots, it's likely to lead to more of them, for these 2 reasons:
Taking frustration with you beyond the few seconds after a shot can alter your mood and increase tension. It's like a snowball effect, compounding with every poor shot you hit.
When you become very self-critical after bad shots, you start to fear your own negative self-talk, which makes you more anxious over the ball before a shot.
What's the solution?
Practice better responses
Your response to bad shots is a habit that can be changed.  Seeing the ball veer off line into the rough does not need to result in disappointment and self-criticism. Challenge yourself to be completely neutral to shots that miss the target.
Your target is your "intention" not an expectation
The less concerned you are with misses, the more likely you'll swing freely and hit more targets. When you start to fear negative outcomes, the more you swing to protect against them. Just because you've visualized a good outcome does not mean that it will happen. Besides, misses mean you get an opportunity to test your recovery skills.
Have a post shot trigger
Your post shot routine is great way to remind yourself it's time to switch off your golf brain and forget about score, possible outcomes, your swing and where you stand against your competitors. But unless you have a trigger, it's easy to allow your mind to wander. Use a trigger like a deep breath, a verbal cue or the action of putting the club back in the bag to remind yourself to switch off in between golf shots.
Rory rarely misses the cut, but perhaps the weekend off is what he needs to re-frame and prepare for the Irish Open next week. I'll be sending him this post to noodle on 😉